By Stephen Kangal
November 07, 2014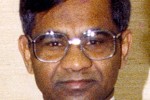 The removal of Dinesh from the captaincy of the T&T Team stinks to high heavens. It is a continuation of the victimisation of Darren Ganga when he was removed because arrogance and show -of -who-is -in-charge antics.
This puerile act is to show solidarity with Cameron's dictatorship and Jamaican hegemony. It makes the TTBC the poodle of Cameron. T&T always stood and watched the Jamaicans make fool of themselves but hardly joined such a circus that is about to set back West Indies cricket many decades.

Dinesh is now at the top of his game in all aspects- captaincy, batting and wicket-keeping.
This decision is definitely not cricket-related but may have originated in Kingston from the head of the Caballismo or generalismo Cameron.
I believe that everything possible must be done to deal with this WICBC -engineered debacle, including handling the post-Indian disaster with tact and diplomacy in the most dispassionate and cricket-friendly way.
But this is not to be. Cameron appoints his own task force, the T&TBC criticises the players and then dismisses Dinesh to add insult to an injured West Indies Team. Someone has to tell these jokers turned cricket administrators that West Indies cricket is not only flannel and pink leather but the soul of the Caribbean. So tread softly and tenderly and hide the big stick.
.
We must rise up against these imposters who have allowed football politics to encroach on the gentleman's game.
West Indian cricket dons have become brutish beasts and have lost all sense of reason and judgment doing un-quantifiable damage to our psyche with impunity it appears.
The simple and elementary decision by Cameron to restore the wages of the players while they were touring in India until their return to the Caribbean is something that he could understand since calling off the tour entailed huge compensatory damages that are now valued at US$47m and counting to say nothing of the uncertainty of the tour to South Africa and the upcoming World Cup in Australia/New Zealand.
Cameron and Hinds have dealt West Indies cricket a knock-out punch from which we the people will take long to recover, recuperate and forgive.