By Raffique Shah
October 07, 2012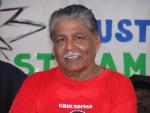 LAST Tuesday, one of this country's great labour leaders and patriots, Joe Young, made his exit from life. Not a drum was heard, not a funeral note, as this gentle giant was hurried to some morgue, unmarked and indistinguishable from others. Not that he would have wanted otherwise. It was his final interaction with the ordinary man with whom he lived and mingled freely, for whom he fought many a battle. At age 80, Joe must have endured more than he could in this cussed country that he so loved. He was ready to join his ancestors, to re-link with old comrades.

As I write this tribute to a colossus—who, in countries that value their human treasures, would be the focus of celebration—I envisage the puzzled looks on the faces of many readers, especially those younger than age 50: Joe Young… who he? Like Shah didn't take his pills this morning! With so much to write about—the budget, corruption, scandals—all he could come up with is the passing of another old geezer.
Listen, my children, as Ras Shorty intoned, read on, learn a thing or two about this patriot, about your history.
Joe enjoyed only a basic formal education, which, in the 1940s, probably meant the full primary school fare. I never asked him about his schooling; his intellect was such, his language so polished, his thoughts and arguments so structured that one could be excused for thinking he had attended university. Joe was self-taught. He was a voracious reader, and it helped that he worked for a while in the pressroom of a newspaper.
The 1950s and 1960s was a period on nationalistic awakening, which, for most Afro-Trinidadians, meant becoming acolytes or grassroots supporters of Dr Eric Williams and the People's National Movement. Joe Young, like Weekes, was different. He developed a social conscience and opted to be a trade unionist, fighting for better wages and working conditions for workers—in his case, those employed by the bus companies. There were four privately owned bus companies when this country gained Independence. The workers' terms of employment were horrible, and the service itself stank.
Young was an organiser for the Amalgamated Workers' Union (AWU) in south Trinidad, while Weekes, an oilfield worker, was a rising star in the Oilfields Workers' Trade Union (OWTU). The two would meet and develop a lifelong friendship. Joe ran afoul of the AWU leadership, which, as was commonplace then, sold out its members for trinkets. By 1962, he had left the AWU, mobilised the majority of bus workers and founded the Transport and Industrial Workers' Union (TIWU).
But his bigger goal was to have government nationalise and upgrade public transport. It was a tough battle, but by late 1964, following several strikes, he forced government to acquiesce, and in early 1965 the Public Transport Service Corporation (PTSC) was established. TIWU would still fight to become the sole recognised union for transport workers, which meant more strikes, great battles fought. When we look at the PTSC fleet of buses rolling across the country today, offering ordinary people a reasonably good service, we must say thanks to Joe Young.
But this stalwart's contributions to the development of his country went beyond the boundaries of trade unionism. In 1969, and its humble offices on Broadway, Port of Spain, TIWU summoned a meeting of many interest groups to win support for yet another strike the union had called against the PTSC. The list of attendees read like a Who's Who in the struggle for "true independence". It included Weekes and senior executives of the OWTU, Geddes Granger (now Daaga) and a team from the National Joint Action Committee (NJAC), Lloyd Best, James Millette, solicitor Lennox Pierre, lawyer Basdeo Panday, and Vernon Jamadar and Alloy Lequay of the opposition Democratic Labour Party (DLP).
The morning after that fateful meeting, as they blockaded the buses the PTSC tried to get rolling, many of the above-named, as well as Young and Clive Nunez of TIWU, were beaten by the police and arrested and charged. That incident was seen as a precursor to the Black Power revolution of 1970 in which Joe Young featured prominently.
I would get to know Joe well in the aftermath of the revolution, more so after I joined the trade union movement leading the cane farmers (Islandwide Cane Farmers Trade Union). This union, while it won wide support after its activation in 1973, could not afford to rent office space. Joe and TIWU, in a display of fraternal solidarity, allowed us use of their San Fernando office that ICFTU occupied for many years.
During the formative period of the United Labour Front (ULF, 1974-1976) I saw another side of Joe. The original leadership of the ULF comprised Panday, Weekes, Joe and me. Also on the executive were prominent men like Pierre, Millette and attorney Allan Alexander. The ULF had come close to crashing several times before the general election of 1976, mostly because of Panday's dictatorial tendencies.
Not long before the elections, with people already pinning their hopes on the ULF, one such crisis erupted. Panday insisted on having his way in the face of near-unanimity opposing his stance. Over three meetings, all other members decided that in the interest of the party, they would defer to Panday. Two held our ground—Joe and I. Amidst adjournments and persuasion, I buckled. The issue was put to the vote and I sheepishly supported it. Joe didn't. He was the last man standing, on principle. I need add, he was later vindicated when Panday "mash up" the ULF anyway.
That was the mettle of the man. He served without seeking office or reward or award. He was a true servant of the people—let it be so recorded.