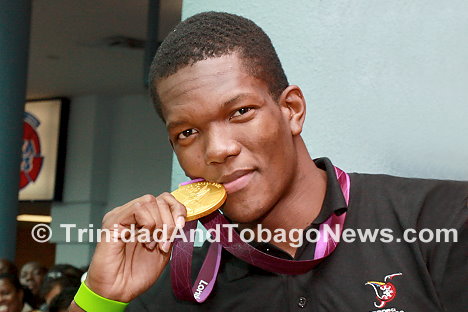 Keshorn Walcott at welcoming ceremony, Piarco International Airport
A nineteen year old, with no international senior experience, who is not on the Grand Prix circuit, who is not in college, who has not participated in Commonwealth Games or World championships, goes in one month less one day from being the World Junior champion to being the Olympic champion in his first major international outing.

He comes from a country that has no significant history in the event. That is the territory of Eastern Europe, Scandinavia, Germany. A 19 year old Trini re-writes the form book and history on his second throw in the javelin final. Only the second man from the Western hemisphere to win the event, the last one being Cy Young of the United States, sixty years ago.
Forget Bolt, forget Blake. Nothing like this has happened in Olympic field event history.
Imagine a conversation like this somewhere in Eastern Europe.
Gerhard: Who won the javelin? I was at work and I missed it.
Viktor: Keshorn Walcott.
Gerhard: Don't know him. Where is he from?
Viktor: Trinidad/Tobago.
Gerhard: What part of Norway is that?
Viktor: It is in the Caribbean.
Gerhard: Czech Republic? Finland? Sweden? Germany
Viktor: It is a little island, south of Cuba
Gerhard: Boy, did he move from around here and take their citizenship?
Viktor: Fraid not, born and bred in the Caribbean.
Gerhard: Let me check him out on the I.A.A.F. website. What have been his performances at Worlds, Grand Prix, Diamond League?
Viktor: Save the time, comrade. He has never been to any of these.
Gerhard: Yeah right.
Viktor: It's true comrade.
Gerhard: Who is his coach at the moment?
Viktor: An extremely dedicated Cuban coach.
Gerhard: …who is a veteran of the senior circuit?
Viktor: Nyet! He has been living there for 6 years
Gerhard: I don't believe you.
Viktor: Check the BBC comrade.
Viktor: I will liar!
Kitch, were he alive, would surely be adding "Toco Boy" to "Toco Band" with all due praise to John "Slim" Andalcio who enters the pages of history along with Keshorn. I have left out the story of the Cuban coaching cohort that initially was contracted. It will follow. Awesome congratulations to Ismael Lopez Mastrapas.
Rae Samuel
Balmain