Fellow Citizens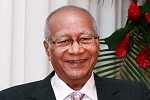 This year, as we celebrate the significant milestone of the fiftieth anniversary of our nation's Independence, I am reminded of how thankful we should be to be citizens of a nation in which religious observances, such as Eid-ul-Fitr, can be celebrated in an atmosphere of respect and peace, as guaranteed by our Constitution and as espoused in the words of our National Anthem, where "…every creed and race find an equal place."

Traditionally, many nationals, who are not part of the Muslim community and for whom Eid does not hold religious significance, still join in the celebration, on this national holiday, by partaking of traditional dishes while visiting with Muslim friends. Non-Muslims are not excluded from the festivities or from the charity extended to the needy during the month of Ramadan.
While world events have impacted us, by and large, we have charted our own course, as a nation, in the past fifty years, and members of the Muslim community, though small in number, have contributed significantly to the development of Trinidad and Tobago, serving in varied spheres and at all levels, including that of Head of State of our relatively young Republic. As is highlighted during the month of Ramadan, the focus on prayer, fasting and empathy and relief for the needy are all critical elements of the culture, lifestyle and belief system of those who follow the Muslim faith and our nation has benefited from the demonstration of these ideals in our national community.
The discipline of fasting during the month of Ramadan manifests the subjection and denial of one's own desires, for a greater good. This ability for self-control lies within each of us and goes beyond the denial of food to other strong passions which, if left unchecked, can ultimately be pursued, at our own expense or at the expense of others. Personal sacrifice, for the benefit of others, is, at times, necessary and this is worthy of emulation by all our citizens. Our nation has been built on the personal sacrifices that many have made and continue to make, so that the national community might have the benefit of our better selves.
In this context, my family joins me in extending warm greetings to all of Trinidad and Tobago and, in particular, to followers of the Muslim faith, on the occasion of Eid-ul-Fitr 2012.
Eid Mubarak!
George Maxwell Richards.