Ramesh: Speaker upheld the Constitution during motion on President
By Renuka Singh
October 26 2021 – guardian.co.tt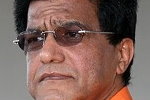 Senior Counsel Ramesh Lawrence Maharaj has defended House Speaker Brigid Annisette-George's handling of last Thursday's motion by the Opposition to remove President Paula-Mae Weekes.
While the Opposition clamoured for the motion to be debated and attacked Annissette-George for refusing to allow it, Maharaj said the Constitution does not allow for a debate until the matter is passed by a two-thirds majority of the Electoral College.

The Opposition never got that far as the motion only received 24 votes in favour and 47 against by the Electoral College, around one-third of the votes.
"The Electoral College, therefore, is the body to decide whether an investigation is to proceed by a tribunal constituted to investigate the complaint," Maharaj said in a statement.
Full Article : guardian.co.tt