By Raffique Shah
November 01, 2021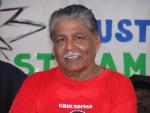 How many of you remember the video posted on one of the social media networks in which a girl, looking no more than 15 or so years old, standing before her smartphone's camera, put an expletives-­laden cussing on the then-prime minister, Kamla Persad-Bissessar?
Many people recoiled in horror: no, this could not be happening in this God-fearing country, some screamed. Others thought the girl was merely registering her displeasure with the Prime Minister and her government, so what?

I do not recall what was the outcome of that episode, whether she was charged with any offence, or threatened by the law, or if she issued an apology and that was considered closure of the issue. What stood out most for me was the casual manner in which the girl put a good cussing on the PM, and the equally cavalier response by a majority of the population who thought Persad-Bissessar deserved it.
Fast-forward to the total breakdown of order, if not law, in the Parliament two weeks ago, occasioned by the mostly young parliamentarians who orchestrated a seemingly well-choreographed performance of asinine behaviour that their leader, the said Persad-­Bissessar, all but cheered on, and which old and young members of the Opposition United National Congress (UNC) seemed so proud of that they have decided to treat it with reverence, naming it "The October Revolution".
This latest manifestation of the diseased minds of far too many leaders, in a society that is laden with mindless followers whose capacity to think seems to be missing from their brains, who are manipulated every which way like puppets on a string, would be laughable if it didn't have the strength in numbers to inflict irre­parable harm to the body politic of the nation.
What should be more disturbing to the sane and sober, not just in this country but across the world, is the rise and dominance of dotishness, the near-absolute absence of reason and the powers of reasoning, the slow but steady erosion of the individualism that has always saved civilisations from the rampaging hordes of sa­vages. I am sorry to use such harsh terms to distinguish one kind of human being from another. But taking the easy way out of the primitiveness that overwhelms progress, that sinks science in a lagoon of mumbo-jumbo, unbelievable stupidity is not an option when mankind faces extinction.
The cacophony of dissonant, confused voices from the dark, and the booming, irrational echoes they elicit are what threaten our very existence. You listen to them explain why they aren't vaccinating their families, and you stare dumbfounded. This cannot be real, you think. Oh, but it is: Jesus will protect me from all harm, Covid-19 included in the pastor's package. The so-called holy books are retrieved from dusty shelves or cupboards, pressed into service to lend credence to the irrational among us, thus eliminating any kind of reasoning.
Such warped minds that we did not think still existed 2,500 years after Plato, Socrates and Cicero walked this Earth and stimulated the brain, the mind, you are left to wonder if the planet has reversed its rotations, if commercial travel into space that is a reality today may, in fact, be figments of our imagination.
I ventured into what many might brand flights of fancy, travelled to inner space to illustrate that there are among us politicians who will easily mislead us back into the Dark Ages, and their supposedly educated but realistically dumb apostles and disciples and flocks will easily steer us to savagery.
Now, more than ever, leaders at every level of the society, but especially in politics and in moving the economy into growth mode which necessarily requires the use of science in agriculture and industry, must be capable of shedding backward thinking that can only harm us. The last thing we need now is for the primitiveness that comes with elections, as will happen in Tobago over the next month, to distract us from doing what is essential to ensure our survival. With China in the lead and the world following into a recession such as we have not seen in decades, only the forward-­thinking can save us from plunging into poverty.
You would think that in such dire circumstances, our leaders, such as they present themselves, would show pathways to recovery and highways to success, stimulating minds that have been dormant for decades, blunted by obstacles that prevented them from participating in recovery and progress. Instead, some among them have tried on the cult of personality, misleading their flocks into misbehaviour that they seem to be proud of.
There is a time for cussing. There is even a time for buffoonery. This is not that time. Genuine patriotism is what is needed to steer this ship of state to safety.
Patriots, assemble!