PNM Walkout
Newsday Editorial
December 08 2010 – newsday.co.tt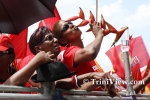 Opposition Chief Whip Marlene Mc Donald may shut her eyes to reality, play word games and deny her parliamentary bench is split, but Friday's partial walkout of the Chamber can leave few in doubt of the power struggle that is confusing the PNM side. Friday's division of the bench showed TT what it has for six months suspected: since losing office, there has existed a tug of war in the Parliament between MPs loyal to new Opposition Leader Dr Keith Rowley and representatives sympathetic to their former chief, Patrick Manning. Friday was a physical manifestation of the current PNM political reality.

Let's quickly recap the events which led to Friday's halfhearted exodus. Dr Browne was speaking on the anti-gang legislation when he was warned several times by Speaker Wade Mark to be relevant or told he would be asked to resume his seat. On seeking to continue in the same vein, the Government used its majority to shut him down. Dr Browne walked out. He was followed by Arouca/Maloney MP Alicia Hospedales, Point Fortin MP Paula Gopee-Scoon, La Brea MP Fitzgerald Jeffery, Laventille West MP NiLeung Hypolite and a little later by St Ann's East MP Joanne Thomas, who at first hesitated and was apparently asked by Mc Donald to stay. Nevertheless, she departed 15 minutes later. Ms Mc Donald, Mr Imbert, seated in the seat of the absent Dr Rowley, and Laventille East/Morvant MP Donna Cox stayed put.
Mr Manning was not present at the time of the protest action nor was Port-of-Spain North/St Ann's West representative, Patricia McIntosh plus Dr Rowley. But Dr Browne is seen as a pro Manning MP. Dr Browne on Friday, in the absence of Mr Manning, behaved as Mr Manning has: ignoring the Bill, he went right for the PM and when rebuked, took matters into his own hands.
The PNM is without a doubt split and it seems the division is seven-five in favour of Mr Manning. The country must pose PNM MPs the question and they must answer it: who is your leader? It matters little now that Mc Donald has retracted her strong words to MPs and is singing a different tune. It matters little that the MPs who stayed are claiming they supported Dr Browne in theory, but had to stay to prevent the Government from passing legislation in their absence. If this is the case, then why did Joanne Thomas not remain behind after a word from Ms Mc Donald? Most of all, why did the Whip chastise her MPs one day and the next, say she supported them? The country will see Ms Mc Donald's about face and tap dancing around the issue for what they are: useless damage control. Two consecutive statements that contradict create more chaos and lend further credence to the belief that the PNM is in disarray.
MPs have whips and leaders to avoid disorder, to set the agenda and to restrain the whims of the individual. It is thus the people get served. The six PNM MPs of the partial walkout took oaths to serve the Constitution in a Westminster system that recognises the authority of the Whip as elemental to the proper functioning of Parliament. Ignore the Whip and the system falls apart. Anarchy rules as it did Friday when few looked to the Whip for leadership. Most did as they pleased: they followed Mr Manning's guy, Dr Browne and paid no attention to Dr Rowley's Ms Mc Donald.
Dr Browne and the five MPs who walked out without so much as a by your leave from the Opposition Whip, have perhaps forgotten the people who elected them. As Ms Mc Donald has correctly noted, on Friday the Government could have passed several pieces of vital legislation without debate or objection. The MPs who abandoned the Chamber on Friday on the say so of a peeved Dr Browne have been elected not to represent Dr Browne (or Mr Manning) but their constituents. On Friday they left these voiceless.
Ms Mc Donald may crack the whip or stroke her MPs ego, as a Dr Rowley appointee, she will continue to find it difficult to command them. On Friday Ms Mc Donald lost control of her charges and if we closely read her mixed messages, it is clear she still has not regained it.
http://www.newsday.co.tt/editorial/0,132113.html
***
PNM MPs in shadow of elephant in chamber
Express Editorial
For yet another time, ranking PNM figures have found it necessary to stress the absence of divisions in the ranks, or to paper over such cracks as appear obvious to the public. The Opposition's Chief Whip, Marlene McDonald, who on Sunday appeared ready to crack the "whip" implied by her parliamentary title, on Monday declared herself "symbolically supportive" of colleagues who had ignored her authority and walked out in support of Diego Martin Central MP Dr Amery Browne.