By Stephen Kangal
July 09, 2010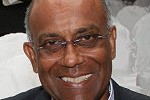 Freshly minted Foreign Affairs Minister Dr Suruj Rambachan has appropriately initiated his public exposure at the helm of the Foreign Affairs Ministry by adopting a consultative, transparency and accountability-based strategy during his recent interaction with his staff, business, academic and civic society representatives at the Claxton Bay Cara Suites retreat.

Such an approach is consistent with the new people-centred, participatory governance modus operandi that underpins the People's Partnership Administration Manifesto. It will inspire confidence and credibility in his fresh new collective approach to the process of formulating and determining the contours of our foreign relations. The nexus connecting foreign policy with the demands of our domestic development agenda including addressing the economic diversification imperative was effectively established during the exchanges at the retreat and will be accorded the requisite primacy in the list of foreign policy priorities.
It was clearly evidenced at the seminar that Minister Rambachan proposes to use his impressive background in the principles and practice of business management to reform and re-constitute the operating culture of his Ministry to that of a business with a human face. It will result in the effective mobilization and harnessing of the enormous high grade diverse human capital present at the Ministry that is schooled in the art and science of what he termed to be T&T's new brand of "value-for-money" diplomacy.
The active participation, creative presentations and prescriptions for the way forward coming from the staff of the Institute of International Relations, the Chambers of Commerce from San Fernando, Chaguanas and Westmoorings as well from former T&T diplomats and business executives augur well for the forging of new frontiers and functional partnerships – backward and forward linkages – in prosecuting our trade expansion and foreign investment inflows agenda on the regional and international stages.
We must wish Minister Rambachan well in his new ministerial appointment.