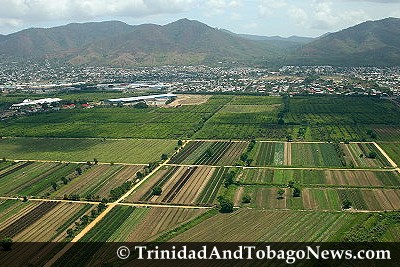 'Stop the many housing projects'
By Adrian Boodan
June 04, 2010 – guardian.co.tt
Food Production Minister Vasant Bharath wants all lands that were under the control of Caroni (1975) Ltd to be returned to his ministry. Bharath was speaking with the media, during a visit to farmers in Cunupia yesterday. Bharath said when the PNM administration shut down state-owned sugar producer, the lands were handed to the Ministry of Finance for disposal. He said he wanted to see the stopping of all housing developments started by the former government on these lands.

Caroni lands are some of the most arable in T&T and can be put back to food production, a move that would greatly reduce T&T's food import bill, Bharath added. He said T&T should not have to be importing produce such as fresh vegetables that can be grown locally. His ministry will be looking at ways to get water reserves in place for next year's dry season so farmers would not have to suffer if a drought occurs similar to the one experienced this year, he said. Bharath said he would be looking at ways to get the praedial larceny squad fully operational to ensure that farmers are not robbed of their produce or livestock.
Full Article : guardian.co.tt
***
Big plans for Caroni lands
No resurrection of sugar industry soon, but…
Minister of Food Production, Land and Marine Affairs, Vasant Bharath, said yesterday there were no immediate plans to revive the sugar industry. But he insisted that systems were being put in place to ensure that the former Caroni (1975) Limited lands are used for viable agricultural production. He said the lands would be developed and used in this country's food production.
Vasant to meet with farmers
FOOD Production, Land and Marine Affairs Minister Vasant Bharath will meet with representatives from several farmers groups today in an effort to move the sector forward. Revealing this in his Corpus Christi message yesterday, Bharath listed the groups which include the National Foodcrop Farmers Association, Cunupia Farmers Association, Livestock Association, Beekeepers Association, Ricegrowers Association, Citrus Growers Association, South Cocoa Farmers Association.