Trinidad and Tobago News Blog
www.trinidadandtobagonews.com/blog
Good day,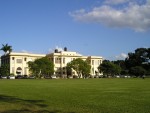 I am a first year undergratuate student living on Milner Hall at the University of the West Indies campus St. Augustine. For the past five weeks we have not had water. The probelm all began when the two 400 gallons of water tanks in the basement overflowed, burned the pumps and flooded the basement. To date, we get, only on few occasions, a truck-bourne supply of water which fills the tanks and is used up in no time at all. This newly built building houses 153 persons; both males and females. This situation has been going on too long and is worsening. The administarion informed us that they are woking on the situation but up today we have not even recived an applogy or some light about the situation. This poses a serious health risk and I think the siutaion should be made public just to let the world know what living on campus has been like. Thank you in advance for your time and consideration. Please help me highlight this problem. I must also mention the high prices we pay; it close to $5000.00 per semester.
Yours Respectfully,
A CONCERNED HUMAN WHO CANT LIVE WITHOUT WATER.
Trinidad and Tobago News Blog – URL for this article:
www.trinidadandtobagonews.com/blog/?p=353