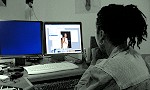 On the heels of Flow cable announcing increased internet speeds for lower rates we have TSTT launching Blinkbroadband (www.blinkbroadband.tt).
Currently, TSTT's residential Dial-Up Unlimited package is $345.00 TT and the DSL 256k package is $460.00 TT, but with TSTT's Blinkbroadband the residential rates are:
Speed / Cost in TT dollars
256k —— $79.00
512k ——- $149.00
1MB ——- $229.00
2MB ——- $349.00
Up to 10MB —— $699.00
www.blinkbroadband.tt/Packages.html
Before you think this is such a great deal, in Denver people pay around $37.00 US for 7MB.
I also doubt TSTT's customer service would improve any time soon.

TSTT NEWS RELEASE
October 1, 2007:
TSTT setting a new benchmark for broadband access

Trinidad – On October 1st, TSTT entered the final phase of its multi-million dollar broadband infrastructure upgrade that will see the company ramp up its customer broadband capacity to over 100,000 ports within a 4-month period. The project will ultimately deliver broadband access speeds of up to 10Mbps and reach every Exchange in Trinidad and Tobago. Trevor Deane TSTT's Executive Vice President Broadband Services says that with the upgrade, TSTT will be able to extend the distance limitations that were a feature of its current High-Speed Internet offering. "We have invested in 'future proof' technologies that are versatile enough to support current and emerging technologies. Modernising our infrastructure and completing our Metro Ethernet fibre distribution network will mean the sky is the limit for business and residential users."

Deane says the upgrade has enabled TSTT to quickly reach critical mass and customers will soon see a value proposition that will be hard to resist. "The final numbers are still being crunched but we are going after an extremely competitive price point with rates for unlimited monthly broadband access starting as low as $79 a month! This is Broadband redefined."

Deane says TSTT is very excited about these developments. "Broadband access is the single most important growth area in the communications industry because of the transformative power it has in business and social spheres." He explains that TSTT is laying the ground work for customers to use broadband access for entertainment, research and education, communication, buying and selling, accessing Government services, health care and much more.

Deane is confident that TSTT's macro broadband initiative will single-handedly give Trinidad and Tobago a quantum leap forward. "While we have placed a lot of emphasis on the wired network, we are simultaneously developing our wireless broadband coverage so there will be virtually universal affordable broadband access throughout Trinidad and Tobago, a feat that few anywhere else in the region can boast about."

The service will be rolled out in three phases. Customers serviced off the West, San Juan and Diego Martin exchanges will be included in the first phase, while the second phase inclusive of four more exchanges is due to begin by mid November.

Reprinted from:
http://tstt.co.tt/index.cfm?p=http://tstt.co.tt/about/news_article.cfm?id=348