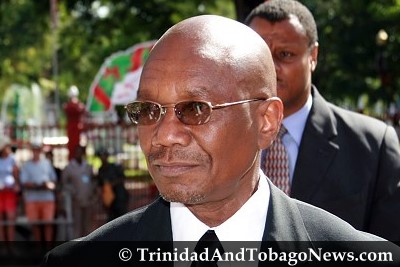 Newsday Editorial
April 27, 2010 – newsday.co.tt
Unless and until the Minister of National Security can convince us differently the following has to be said.
Bernard Campbell was not allowed to enter the country because the PNM was afraid that he would successfully help the UNC coalition win the election on May 24.

It is clear to us that if there was a valid reason to ban Mr Campbell as "an undesirable" the government would surely have trumpeted this. We would have been told all the defects in his character which could have led to the Government or the PNM (these days it is difficult to tell the difference) instituting the ban. In fact a confident PNM would have used platform picong to dismiss his presence. In the same way that they scoffed at the need for several parties to come together to beat the "mighty PNM" they could have said "All you want to govern the country and you have to hire outside help to fight the election!"
We have to ask, first and foremost, what was the thought process, if any, behind the refusal to allow Bernard Campbell to enter the country last week? Obviously a decision was taken, although at first everyone in government was "breaksin" from any responsibility, or even knowledge of the event. Clearly someone in authority had instructed — first the airlines, and then the Immigration at Piarco — that Bernard Campbell should neither be allowed to board an aircraft bound for, nor be allowed to enter, Trinidad and Tobago (TT).
Full Article : newsday.co.tt
***
Related News
UNC adviser can come here
BOWING under pressure over his unexplained decision to use a rarely-used section of the Immigration Act to deny entry to UNC campaign adviser American Bernard Campbell, Minister of National Security Martin Joseph yesterday announced the ministry has cancelled the ban which prevented Campbell from entering the country last week.
Joseph backs down
National Security cancels deportation order against Bernard Campbell
Govt must tell US 'sorry'
UNC political leader Kamla Persad-Bissessar last night called on Government to issue a formal apology to American political strategist Bernard Campbell, his family and the US government regarding his recent denial of entry into Trinidad and Tobago (TT).
Ministry cancels order of rejection
Meanwhile, the release revealed "the facts" regarding Campbell's denial of entry.
Something wrong with PM, says Kamla
Slamming the Patrick Manning administration's 'bullying tactics' and 'high-handed action' which saw Campbell's deportation last Friday, Persad-Bissessar called on Government to state why Campbell was deemed to be an 'undesirable'.
Kamla gives minister week to explain action
Kamla: What made Campbell 'undesirable'?
National Security Ministry statement on Bernard Campbell
The Ministry of National Security wishes to advise that the Rejection Order against United States citizen Mr Harry Bernard Campbell has been cancelled.