By Kerry Trueman
January 14, 2010 – Green Fork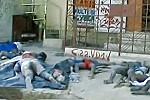 The horror in Haiti is beyond anything we can imagine in the U.S., but this apocalyptic catastrophe has something in common with Hurricane Katrina; in both cases, a terrible natural disaster was made infinitely worse by human negligence and incompetence. How many thousands of Haitians could have survived the earthquake if the country weren't crippled by chronic poverty, shoddy infrastructure, environmental degradation and a host of other ills that have plagued Haiti for centuries?

Many Americans are rushing to send relief and expressing compassion for the devastated nation. But some influential public figures have done just the opposite. Pat Robertson has stated that Haiti brought this tragedy on itself through "a pact with the devil," while Rush Limbaugh derides the notion that we should provide any further aid to Haiti because, he says, "We've already donated to Haiti. It's called the U.S. income tax."
Limbaugh apparently thinks that we've already done more than our share for Haiti. It's a shame to see him use his massive platform to perpetuate this idea, because the reality is that much of what we have done in the name of "aiding" Haiti has in fact been far from helpful.
As Tracy Kidder notes in a New York Times op-ed, many of the projects undertaken ostensibly on behalf of the Haitian people "seem designed to serve not impoverished Haitians but the interests of the people administering the projects."
Consider, for example, the food aid we send to Haiti. Aljazeera's Inside USA program ran a report last July called The Politics of Rice that explains how seemingly good intentions can have disastrous implications:
Twenty years ago, Haiti produced enough rice to feed its population. Importing rice from other countries like the US was unheard of.

Today, this country of less than 10 million people is the third largest importer of US rice in the world – 75 per cent of the rice eaten in Haiti is shipped in from the US.

Great for farmers in places like Arkansas and Missouri but devastating for farmers in the Artibonite valley, which used to be Haiti's rice bowl.
In short, it has been our government's policy to encourage Haitians to give up farming in rural areas and move to crowded cities like Port-Au-Prince to work in sweatshops manufacturing cheap garments for the US and other markets.
The logic behind this policy is that it's more "efficient" for US agribiz to produce rice than the small Haitian farmers, and that working in a sweatshop gives Haitians a way to participate in the global economy.
Unfortunately, this approach to "aid" has compelled thousands of Haitians to migrate to overcrowded slums and work in miserable conditions. It also left them vulnerable to fluctuations in the global food supply recently, when rising fuel costs and droughts drove up the price of rice.
Annie Leonard, the environmental activist who created the Story of Stuff video and has a superb book by the same name coming out March 9th, documents the terrible consequences of this misguided philosophy in her book:
…global rice prices tripled over a few months in early 2008, leaving thousands of Haitians simply unable to afford this staple food. The newspaper ran haunting images of Haitians who had resorted to eating dirt pies, held together with bits of lard or butter, in order to have some substance in their stomachs.
Had we devoted our resources to "supporting farmers in developing sustainable farming practices, rather than investing in infrastructure and policies favoring garment factories and export processing," Leonard concluded, "a drought in Australia would not have made people starve in Haiti, half a planet away."
Haiti lies in ruins and we have played a role in fostering the conditions that helped reduce this troubled nation to rubble. Now's the time to make amends for decades–if not centuries–of neglect and exploitation. Find out here how you can help.
Source: Green Fork