By Sean Douglas
Thursday, April 30 2009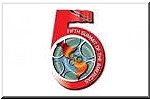 PRIME Minister Patrick Manning said the Fifth Summit of the Americas is earning TT and Caricom more respect and foreign investment. Addressing the 20th anniversary celebration ceremony of the Caribbean Telecommunications Union (CTU) on Tuesday, at the Diplomatic Centre, he boasted: "There can be no doubt about the gains to our country and the region from this undertaking. Tourist arrivals will increase and it will certainly be much easier to market our region as a single tourism destination."

The business community in the Americas, he said, is now more than ever aware of investment opportunities in TT and Caricom. "And the flow of investment will certainly grow."
The PM said the Summit has led to locals acquiring new skills in hosting international events. "The region and its peoples have been promoted and have gained a new respect in the international community," he said.
He recalled Canada's Prime Minister Stephen Harper saying Caribbean leaders had brought reason and calm to the Summit when it was expected to be contentious.
"Prime Minister (Stephen) Harper of Canada captured this when he said that Caribbean leaders were very instrumental in bringing reason and calm to a Summit which was expected to generate heated contention," said Manning.
http://www.newsday.co.tt/politics/0,99332.html
Our empty runways
I left Trinidad the morning the Summit of the Americas ended. In the wee hours I set off to catch an early flight and so avoid the inevitable chaos on the roads as thousands of foreign diplomats, technocrats, journalists, leaders and visitors, who had talked themselves out at the Waterfront, would be eager to depart TT's shores. It was a good move. Dawn had just broken but Piarco was bustling, as if the sun had never set on the day before.
News:
WHO: Global epidemic very likely
Govt seeks more control of CL group
Duprey, Karen in showdown:
Government is expected to put its demands in writing for a greater say in the management control of the troubled CL Financial Group on the table today.
Jack, Ramesh face disciplinary action
…as Kamla heads team to unite opposition forces
Bodies everywhere
The body count rose again yesterday, with reports early in the morning that police shot dead two gang leaders in Diego Martin and a man had been found hanging in a cell at the Central Police Station in Port-of-Spain. By late evening, a woman's body was found in bushes near the St Ann's River.
Govt seeks new top cop
AS the country's murder toll continues to rise, Government begins the search for a new Commissioner of Police (CoP) when it lays three orders in the House of Representatives tomorrow at 1.30 pm.
SAUTT unlawful
THERE is no law which constitutes the Special Anti-Crime Unit (SAUTT), former chairman of the Police Service Commission (PSC) Kenneth Lalla SC, said yesterday…
Right example
If the Government of Trinidad and Tobago does not obey the law of the land, why should citizens be expected to?
Relatives want probe into 'suicide' prisoner
Woman found dead down St Ann's precipice
Mom cries foul in prisoner's death
Three suspects held in Sean Francis killing
Police mix-up: family finds Lena's body
FOR the past six months, the family of Lena Johnson had been searching for her, believing that she had gone missing. Little did they know she had been dead all along.
Private funeral for 'Bill'
…a gang believed to be responsible for a suspected arson attack in Beetham Gardens, sparked by the mysterious disappearance of four illegal guns, is believed to have fatally shot Francis.
Leah's disappearance linked to serial killing
A 27-YEAR-OLD woman of Felicity, who police believe is one half of a couple who kidnapped and killed several young females in central Trinidad was arrested at her home yesterday and a quantity of jewelry seized.
Dookeran accuses PM of 'prostituting office
Max Knocks UNC
President on Integrity Commission
President George Maxwell Richards says "it is regrettable" that the facts surrounding the length of time it took for the appointment of new members to the Integrity Commission are being "misrepresented to the media by persons who ought to know better".
New Integrity Commission Friday
PRESIDENT George Maxwell Richards will at 9.30 am tomorrow swear in the new members of the Integrity Commission, according to a statement from President's House yesterday.