T&T Guardian
September 23, 2017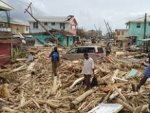 Following Prime Minister Dr Keith Rowley's proposal for T&T to open its doors to citizens of Dominica in the aftermath of Hurricane Maria, there was a lot of racist, political and xenophobic remarks on social media from citizens who disagreed with the idea.
Some of the comments included:

•Well we already have an influx of Chinese, Guyanese, Nigerians and deportees coming in. Just saying.
•We all know Rowley bringing them here to vote PNM but Trinidad importing food many people don't have jobs or homes. What you think will happen????? Is more crime.
•Sadly we have become quite a selfish, self-centred society. We will not lend a hand to our physical neighbour much less our Caribbean neighbour. I pray God change our hearts of stone.
Full Article : guardian.co.tt
~~~~~~~~~~~~~~~
Sat hits Govt's offer to Dominicans
CLOSE YOUR HOMES
We won't turn Dominicans back
PM stunned by negative response to initiative
Not all Dominicans can be refugees in TT
…is limited to those who have family or friends here willing and able to accommodate them, Planning Minister Camille Robinson-Regis said yesterday.
Rowley: Trinis are caring people
Prime Minister Keith Rowley yesterday said the vast majority of people understand why TT must do what it can to help Dominica in the aftermath of Hurricane Maria.
Charles: PM missed opportunity to provide debt-relief for Dominica
2.28 tonnes of food delivered to Dominica
…while 14,000 pounds of relief supplies have been flown in by the National Helicopter Services Limited (NHSL).