By Clint Chan Tack
September 23, 2017 – newsday.co.tt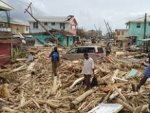 Prime Minister Keith Rowley yesterday said the vast majority of people understand why TT must do what it can to help Dominica in the aftermath of Hurricane Maria. Rowley was confident that most of this country's citizens are caring people.
However, he expressed disappointment at the uncaring attitude of some over Government's proposal to waive immigration regulations to allow Dominicans to stay in TT for six months, as their country rebuilds.

In a television interview, Rowley said Dominica was totally devastated and its people need help. "In that situation, TT has a duty of some kind to extend a hand of friendship and help…and I daresay caring…in so far as we are able to." Rowley said this was a question of humanity and he believes most, if they are able to, would put their own personal reservations aside and try to help.
Rowley reiterated that if there were Dominicans who have relatives or friends in TT, who are willing and able to help them, "then we at the level of the State will not be an impediment to those persons' way." He continued, "We will allow them to extend that hand for six months." Rowley said within this specific period, the numbers of Dominicans who may come TT will not be huge.
The Prime Minister said many Dominicans may choose to stay in their country and rebuild. He said those who choose to leave could go to other Caricom countries besides TT. "When I see people talking about political repercussions and who coming here to vote, I was disappointed," Rowley said. He appealed to these people, "to not see race in every thing that we do in TT." Rowley said the Immigration Act and this country's treaty arrangements with Caricom, "allow Dominicans to come here by virtue of being citizens of the Commonwealth of Dominica." He continued, "When they get here, they can ask for an extension and that extension can be granted."
Source: http://newsday.co.tt/2017/09/23/rowley-trinis-are-caring-people/