By Stephen Kangal
September 22, 2017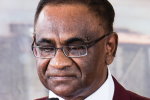 This unilateral decision taken by PM Rowley that is inconsistent with our Immigration Act to open our ports and country to an unregulated influx of Hurricane Maria refugees from Dominica will have the effect of decimating and draining the much-needed current human resource capital of Dominica. There are only 76,000 people there.

T&T has adopted the easy way out response to a catastrophic disaster that flattened our brother Caricom partner that needs immediate relief supplies.
We should be sending assistance to the country to help in the reconstruction and restoration of schools, hospitals and other facilities rather than encouraging Dominicans to leave their country and not be available to contribute to the rehabilitation effort that can see Dominica eventually but slowly becoming up and running again.
International aid will come to the rescue of Dominicans.
PM Skerrit it will need its people and families to conduct this aid to those in need. Building materials are needed to rebuild/repair homes/buildings. We fortunately have a great deal in storage T&T.
Send URP/CEPEP carpenters and masons to help. Let the Defence Force mount a humanitarian rescue Mission to Dominica using our military and civil transport facilities and help to bring normalcy to life in Dominica.
Send TSTT, T&TEC, WASA, Works and Transport personnel and equipment to help to restore facilities, roads and communications.
That is where help is need urgently and immediately.
Mount a concerted T&T Humanitarian Rescue Mission to Dominica and Barbuda and show our humane solidarity with them rather than bringing them to T&T to exacerbate the current health, housing and education delivery debacles.