By Clint Chan Tack
October 06 2015 – newsday.co.tt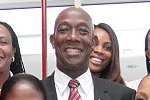 PRIME Minister Dr Keith Rowley yesterday said the 2016 Budget provides the Government with an appropriate roadmap to guide the country through the challenging economic times ahead. The Prime Minister made this point as he and Finance Minister Colm Imbert spoke with reporters at Tower D of the Port-of-Spain International Waterfront Centre, after Imbert unveiled the Government's $63 billion fiscal package.

Rowley, who is also chairman of the National Security Council, welcomed the fact that national security got the largest allocation of $10.8 billion in the Budget. He observed that, "up until recently, in every single budget since 1956, the largest allocation in the budget has always been education." He explained, "This budget has as its largest allocation, national security. That is driven by the chronic and rampant criminal conduct in Trinidad and Tobago."
According to Rowley," So we get the pain of the crimes and we have to pay the largest amount of our earnings on trying to treat crime. That is the dollarising of crime in TT. This should let the population know, if ever we did not know before, that crime is having a serious effect on the population of TT." Stressing it is imperative that "we have to treat and roll back the cost of criminal conduct in this country, "the Prime Minister disclosed, "What has not been mentioned in the Budget, we intend in very short order to conduct a major manpower audit of the security apparatus of TT to determine what we have available, how it is being used and how we can improve upon it."
Reiterating Government's commitment to "make every effort to eliminate waste and corruption," which existed under its People's Partnership (PP) predecessor," Rowley said this justifies the decision to conduct a thorough audit of the Children's Life Fund, which was the brainchild of his predecessor, Kamla Persad- Bissessar. Imbert indicated that controls will be put in place on that programme, "to stop fraud and then we are going to go after the people who stole the children's money." Imbert, who is also Diego Martin North/ East MP, said he knew of a constituent who was recorded as having received US$25,000 under the Fund to treat her sick child but she never received the money.
The Prime Minister added, "A number of those situations are before the Fraud Squad and that indicates to us, there was something wrong in there." Rowley was confident that properly audited and managed Life Fund would serve its true purpose better. Describing Imbert' budget presentation as very comprehensive and lucid, the Prime Minister said, Imbert "has given the population, a clear picture of what I can conclude to be a very, very serious situation."
Rowley observed, "Of all that has been said today, in the Finance Minister's presentation, nothing should strike the population more starkly than the fact that TT, in five years, we increased our budget by 33 percent." Saying the expenditure pursued under the PP has landed the country, "on a plateau on low oil prices, low production of oil and gas and of significant loss of confidence with respect to the management of our foreign exchange," the Prime Minister said, "We have not yet determined why we have been putting so much foreign exchange into the local banking system, yet the foreign exchange is unavailable to those who need to conduct their business."
Explaining the Budget is not cast in stone, Rowley said, "There are things that can happen during the period that can increase our revenue or decrease the revenue which will allow us to have an ability to spend more or to spend less.