By Raffique Shah
May 15, 2023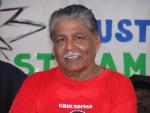 While members of parliament, on both sides of the divide debated, argued, and almost came to blows over a relatively minor issue— in this case, the supplementary appropriation bill— they could not see the herd of elephants in the House, not one in a room, set to stampede demanding an equitable place on Earth. I watched with consternation as MPs got close to blows over the Finance Minister's proposal to increase expenditure for fiscal 2023, I thought: These people must be mad.

Because what that bar room brawl was all about was borrowing a petty TT$3.1B to spend on the usual quick fixes that precede elections. Poverty, even starvation is reducing tens of thousands of our people to criminals .
One sees it all across the country. There are reports of children not attending schools because they have no clothes nor do they have the means to nourish their fragile frames. And, when their parents manage to put a few dollars together to buy them food, 90% of them rush to order 'fast' foods which are gnawing away at their health before they even become adults hence, guaranteeing the next waves of diabetics and other lifestyle diseases that are making this nation a huge ward of very sick people.
Not only sick, but angry. Children who do not know if there will be a next meal before they go to sleep, watch with envy and anger as their counterparts in the middle income bracket, feast on more than their needs of foods, snacks, and other poisons.
Several keen commentators and economists, as well as agriculturists and a sprinkling of nutritionists have been warning government and the population that we are going down a dangerous road given what we are putting in our stomachs. But there are those in politics who believe 'quick fixes' are what will keep the natives quiet while they avoid the politicians who failed to tackle the root causes of so much anger emanating from the destitute.
I understand that politicians see only as far as the next elections— and there are many of these to come in the next four years or so. But their myopia will lead them to facing the stampeding elephants in their habitat. Unlike what many would want to believe, which is the political combatants will face-off on race and on the usual trivia of roads and bridges and drainage and water etc These ancient never ending issues will be thrown aside as the poverty stricken go to war to demand a fairer share of the economic pie. For too long they have voted this way or that, only to end up in the same 'monkey pants'. Whether the economy grows by three or four or eight percent, or it shrinks by similar digits, does not really impact directly on them.
I heard the Finance Minister say that new jobs will be created as the money he sought to inject in expenditure will improve business activity hence, jobs. But I also heard other high officials say with authority that there is a 'missing generation' of job seekers about whom government has little or no information. We also hear that schools cannot account for hundreds of children since they are missing from classrooms on a daily basis across the country. These are reasons why I say that many people from the lower strata have given up hope of ever escaping persistent poverty. Throwing a billion dollars here and a billion there, knowing full well that a fixed percentage will go into certain bank accounts of the leeches who bleed the treasury will not create the seismic event that this country needs to bring the ruling classes to their senses— if they have any.
Lloyd Best, were he around, might explode in raucous laughter, the admonition: I told the fools so, a hundred years ago. The question to be answered is not, 'Who we go put?' but, 'What we go put?' In other words, faces hardly make a difference. Replacing one set of political dimwits with another, with not even their European, or maybe now Latin American suits being of different style or colour, changes nothing fundamentally. We had some of the finest brains, both literally and figuratively, ever in the history of this country formulate policies and strategies that will have radically reformed the economy and simultaneously narrow the income gap to make the distribution of our wealth more equitable.
We tried to eradicate corruption which is a disease in this country. We failed. The masses seemed enamoured of those who will smile with them and pick their pockets at the same time. They were the power-brokers a hundred years ago and except for adjustments to allow the entry of new crooks in the power circle, nothing has changed.
So what the hell will TT$3.1B do except expand the feeding frenzy. You tell me.