By Raffique Shah
November 07, 2022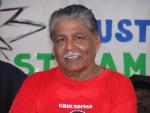 Not surprisingly, the murder rate in this country, as it soars past anything we have ever experienced, is seen as the number one issue impacting the populace, the electorate, based partly on people's genuine fear of having to face unimaginable violence, maybe death, riding not a pale horse, but actually some stolen Nissan Sunny, its occupants armed with heavy fire power, ready to rob or kill some law-abiding citizen who worked hard for the few dollars he or she has.

Hell, the bandits by choice and murderers by chance reason it's far easier to rob than to work.
That, and the fear of being pauperised by the sharp drop in one's living standard, what with loss of jobs or erosion of the value of their earnings that coincides with rocketing prices of food, medications, transport and other basic needs, are creating havoc with people's lives.
And living with the fear of death seemingly stalking them day and night, this nation is one colossal nervous wreck, when we come awake on mornings or whatever time—and that's for those who actually sleep, sleep-disorder ranking high among mental illnesses—give thanks to the not-so-friendly neighbourhood criminals who allowed us some sleep when they had grown tired of playing what they say is music, but what all sane people know as a cacophony of jarring noise, lyrics laced with obscenities, thanks, Sirs, for allowing us to live another day.
The first news you receive on mornings is the "score"—and no, that's not another depressing performance by the regional cricket team that we have grown to accept as the "new normal"—a euphemism that was invented to categorise our cricketers, they who deliver sterling performances when the US-dollar-compensation is right, when they have to fight to stake claim for a place on the team.
When the region's status is all that matters, the players can ignore that, drag the name "West Indies" and its maroon colour that once stirred pride in hearts of the nationals it represented, in mud from Australia to England, with the same consummate ease that the region's criminals celebrate another day of killing, gargling with the finest cognac blood-money can buy.
But I digress: I was about to highlight the morning's "score"—that is, the number of lives that were terminated while citizens slept. I am told by friends who live in communities from whence these dragons dance forth as darkness descends, the murderers tune out of their music into the morning news on radio only to hear if their "ghost" made the headlines.
I am necessarily told the killers thrive on being "mentioned in dispatches" by reputation, not necessarily names, although the latter assures them promotion by rank, by the fear mere mention of their names can trigger in lesser mortals' hearts. Further, I am told, mere arrest and being "inside" jail while awaiting bail earns the gunman a chevron or two—rank, boy, rank.
The murderers love the lawyers and politicians who, for moderate fees by their standards, enable them to secure bail in order to continue unhindered their careers in crime, so much so that they are hedging bets on their blocks that Party A, not Party X, will win seats traditionally held by X, with a little persuasion from gangsters, a pensioner shot here, a toddler shot there—what does it matter?
It does matter. The people-on-high who stoke the criminals, literally aiding and abetting them to, at the very least, keep the country unstable, or worse render it ungovernable, are the real traitors—virtually, the controllers of the crime-temperature who seem to enjoy the bloodletting with relish. I wonder how many of you noted that at last Friday's murder-suicide by gun, the perpetrator was reported as the lawful owner of four handguns and one rifle. In several other recent crimes, either the perpetrators or the victims were also holders of multiple licences. Now, I trained at Sandhurst, a military academy that prepares thousands of young men to fight wars. The arms, ammunition and armaments we used numbered in their tens of thousands over the two years I spent.
Not once did I see a training officer or a cadet armed with more than two weapons: a handgun and a rifle or machine gun, and these were professional soldiers preparing for war. Now I want the Minister of National Security and/or any of the commissioners of police to tell the country why civilians have been issued with more than one weapon, all duly licensed and approved by persons in authority. Why? What war were they preparing for?
Now, do we see a link between the criminals armed with machine guns, automatic rifles and an abundance of handguns as being armed for the wars they engage in? Fighting fire with fire is their code. And, as both "armies" fire away, children, pensioners and ordinary citizens become targets of opportunity.