PH' driver drinks poison
By Radhica Sookraj
Wednesday, March 18 2009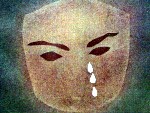 For 27 years, Churaman Ramsaroop showed no signs of being a violent person. But on Monday afternoon, Ramsaroop chopped 14-year-old Zoreen Ansara Mohammed to death, after tying her up with shoe laces, slicing her with a knife and bludgeoning her with a blunt object on the head.
He then committed suicide.
The murder/suicide took place off Bancroft Trace, Freeport, on a deserted track about four miles from Ramsaroop's home in Arena Village. Late yesterday, both Ramsaroop's and Mohammed's relatives were trying to find out what had caused the murder/suicide.

Mohammed's uncle Fazeed Ali said his niece and Ramsaroop were not in any relationship. He said Ramsaroop worked as a PH driver and used to pick up Mohammed and four other students daily to take them to the Carapichaima West Secondary School.
Full Article : guardian.co.tt
Suspect commits suicide
By Nalinee Seelal
Wednesday, March 18 2009
Zareen Mohammed, a 14-year-old schoolgirl was beaten to death on Monday, and her body dumped on a dirt road a quarter mile away from her home on Arena Road in Freeport.
Police believed she had turned down the sexual advances of a PH driver before she was beaten to death.
Panicked by his actions, the killer, Chunlal Ramsaroop, 27, drove to his home, parked his car, took a bottle of weedicide and walked to Martin Trace, off Arena Road, Freeport, where he ingested the weedicide. His body was discovered at about 3 pm on Monday by a gardener. When the body was found no one knew that schoolgirl Zareen was murdered.
Full Article : newsday.co.tt