By Nalinee Seelal
Tuesday, March 7 2017 – newsday.co.tt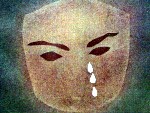 A 39-year-old woman, who has reported on several occasions that she is being stalked by a man at her Tunapuna home, is calling on police to do more to protect her and her two children. Lian David says she is terrified of the 56-year-old man against whom she has a court order.
On Wednesday last, the suspect pleaded guilty to three counts of stalking and harassing David and was ordered to stay 50 feet away from her home and her children's school.

During the court hearing, the man told the magistrate he could not explain why he could not stay away from David, but he was warned that any breach of the order would not be tolerated.
However, David said despite the warning and the order of the court, the man turned up outside her home that very afternoon but stayed about 55 feet away.
The police were called and the man was warned but not charged.
On Saturday, David left home to run some errands and when she returned, she found her pet dog had been poisoned.
She said the poisoning of her dog was the last straw. And while she is contemplating moving out, she feels she should not run away from her situation but go public so that the authorities would know of her predicament and maybe someone would be willing to assist.
David said her troubles started when she bought the Tunapuna house last year and noticed the man passing and looking at her. She said he exposed his private parts on one occasion to her 17-year-old daughter, but when the police were alerted they simply warned him and did not charge him.