By Raffique Shah
November 16, 2016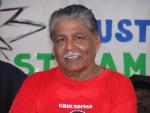 Sixty years ago, Trinidad and Tobago philosopher CLR James penned a lengthy essay titled "Every Cook Can Govern". As I recall its theme, having read it in the late 1970s, CLR argued that direct democracy, as practised in ancient Greece centuries before the birth of Christ, was the best form of governance ever.

In that system, at a time when independent city-states existed (he focused on Athens), all citizens assembled in public spaces a few times each year to elect from their ranks administrators and councillors, magistrates and generals, and other officials who would conduct their affairs for a fixed period. More importantly, for critical offices, citizens were chosen by lot, which was akin to pulling names from the proverbial hat.
That way, a cook or blacksmith or teacher could become the equivalent of today's president, prime minister or judge. The only caveats were that all such elected officials could be removed by the citizens at any time, and office-holders rotated annually.
Those who did not participate in the democratic processes were deemed idiots, which also accounted for the origin of the word.
In the wake of the 2016 US presidential elections that saw Donald Trump pull off the biggest upset in history, or so they say, with more than 60 million Americans voting for him, and watching the confusion that reigned in the aftermath, with pollsters and analysts trying to explain why they were so wrong in predicting who would win, I remembered James's essay, and ironically, one of the Mighty Sparrow's hit calypsos.
Except that while 60 million Americans may not have been wrong in electing their new president, they misinterpreted the title of CLR's essay, reading it as "Every Crook Can Govern", inserting an "r" as they are accustomed to doing in ordinary speech. But then it struck me that while CLR never mentioned in his essay the prospect of crooks being named to high offices in ancient, or, indeed, modern Greece, surely that must have happened repeatedly, such is the universality of crookedness.
Trump must be a crook. After all, he is a billionaire, and it is generally accepted that the overwhelming majority of very wealthy people worldwide did not amass tonnes of money without, at the very least, cutting corners. Some may have even slit more than a few throats as they clawed their way to the stratosphere of the super-wealthy.
To be fair to the fella, he is not the first US president to be so dubbed, nor will he be the last. Richard Nixon, who was in and out of the White House as president and vice-president, and in US politics as a congressman or senator, for 37 long years, finally resigned as president before he was impeached for the Watergate scandal in 1974.
And Nixon's notoriety was finally exposed only because he and his minions were stupid when they sanctioned a break-in at the Democratic Party head offices in the Watergate complex, leaving a trail behind them. Think of how many other presidents must have accepted bribes and committed other heinous crimes while in office, or as they clambered their way up the power-ladder.
So the 60-plus million who voted for Trump, the mostly white working and middle classes, the re-energised racists of the Klu Klux Klan and the non-whites who are hoping to keep other would-be immigrants of like colour out of great-again America have nothing to be ashamed of.
Oh, they will be sorely disappointed when Donald cannot deliver on his outrageous promises, for sure. I don't know how many of them seriously expect him to build a 2,000-mile wall along the US-Mexico border. I heard one such person, a retired army general, cite the ancient wall around all 110 acres of Vatican City when he was questioned about the practicality of the Mexican wall. He was a general?
Anyway, the Mexicans and Canadians may yet pay for and build walls along their borders with the US—to prevent refugees from Trump-ism from flooding their countries!
Because US manufacturers who, through globalisation, have shifted their operations, hence jobs, to developing countries where costs are lower, will rather change flags than return to high-cost America.
Moreover, while Trump could revert to coal big time within his borders, dismissing concerns over global warming, the rest of the world will tell him to keep his nastiness at home. And any attempt to nullify trade agreements and impose tariffs on imports will invite backlashes that America will find too burdensome to bear.
So yes, as CLR posited, every cook or crook can govern. But since ancient city-states have given way to a globalised world in which boundaries and borders mean nothing, no land is an island—not T&T, and certainly not America.
Trump will be made to eat the unpalatable words he uttered during the campaign, and reality will soon swamp his supporters; this crook can't govern.