By Andre Bagoo Monday, March 2 2009
www.newsday.co.tt
Trinidad and Tobago News Blog
www.trinidadandtobagonews.com/blog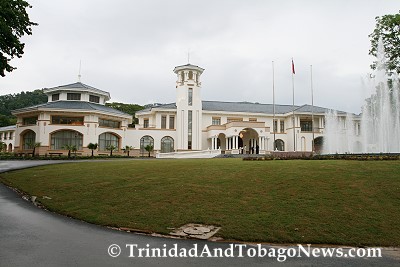 FIRST it was estimated to cost $40 million. Later, that rose to $148 million. Last September, the figure was revised to $175.3 million. But Udecott documents obtained by Newsday reveal that the cost of the Prime Minister's Residence and Diplomatic Centre as at December last year was an estimated $244 million. According to a dossier on the project which was submitted by Udecott lawyers to the Uff Commission of Inquiry, the cost estimate for the project, as at December 31, 2008, was $243,961,819.

The dossier contains a cover sheet which breaks down the costs of the project, contrasting estimated costs as at December of last year with earlier budgeted costs as at December 15, 2006.
According to the cover sheet, back in 2006, the total estimated cost of the project was not $148 million as had been previously stated, but rather $179.9 million. This figure included a "construction contract sum" of $148 million. But that $148 million excluded other relevant costs such as $7.1 million in consultancy fees to Udecott, $1.3 million in "miscellaneous" expenses and $23 million in VAT payments.
These pushed the 2006 estimated cost up to $179,990,958, according to the documents. But additionally, by December 2008, the contractor for the Udecott project, Shanghai Construction Group (SCG) incurred $38 million in project "variations" which—as was reported in an exclusive Sunday Newsday report yesterday—included a $6.5 million (VAT exclusive) furniture bill, and a $2.6 million (VAT exclusive) bill for drapes and blinds, as well as other costs.
Among the other costs were: the construction of an "administration building" at a cost of $6.1 million (VAT exclusive); equipping a commercial main kitchen at a cost of $2.5 million (VAT exclusive); landscaping design and construction at $2.6 million (VAT exclusive); the building of a boundary wall at a cost of $4.9 million (VAT exclusive); an "additional" garage for $3.6 million; cable removing for general power supply at $1.1 million (VAT exclusive) and an additional lounge room for drivers at a cost of $1.6 million (VAT exclusive).
But in addition to these $38 million variations, utility works and the outfitting of a media room also racked up a $6.3 million (VAT exclusive) bill which added to the project's estimated cost.
Additionally, VAT exclusive payment to consultant Genivar was estimated at a cost of $467,267 in addition to a revised fee of $9.6 million for Udecott. By December 31, 2008, the budget for "contingency" expenses ballooned dramatically to $5million, while the budget for "miscellaneous" expenses shrank from $1.3 million to $290,365. There was also the matter of budgeting for taxes. The estimated total for VAT for the project in December last year was $30.7 million while the total for import duty was $5.4 million.
All of these additions brought the estimated cost of the project to $243.9million as at December 2008, according to the documents. On September 9 last year, in response to a question filed by Opposition Senator Wade Mark, Minister in the Ministry of Finance Mariano Brown said the cost of the PM's residence rose from $148 million to $175.3 million due to project variations. "As far as I know that is the final construction cost, but as you are aware when one moves into a place and undertakes functions, things come up from time to time," Brown said. He gave no details of the consultancy fees or the cost of utilities for the project and said the total project variations amounted to $27.3million. He did not disclose projected VAT costs to be incurred by SCG specifically for the PM's residence at La Fantasie, St Ann's.
UDECOTT'S ESTIMATED COSTS FOR LA FANTASIE
"Construction contract sum" $148million
Variations (including drapes and blinds;
furniture, kitchen and bedclothes) $38million
Utilities, landscaping, media room $6.4million
Consultants (Genivar, Udecott) $10million
"Contingency, miscellaneous" $5.3million
VAT and import duty $36.2million
TOTAL $243.9million
http://www.newsday.co.tt/news/0,95958.html
Trinidad and Tobago News Blog's URL for this article:
www.trinidadandtobagonews.com/blog/?p=978