By Dr. Selwyn R. Cudjoe
June 22, 2016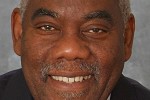 On Monday evening, like so many people across America, I attended a vigil in honor of the 49 people who were gunned down at Pulse Night Club in Orlando just because some folks hate gay people. I was on my way to London but stopped in Wellesley, Massachusetts, to gather my papers and other necessities for my trip. In that small town of 28,000 people, about fifteen miles outside of Boston, I joined about three hundred people on the lawn of Wellesley's Town Hall who had come together to stand in solidarity with those who had lost their loved ones in Florida.

I was asked to read out the names of six victims of the massacre. They were Juan Chevez-Martinez, 25; Jerald Arthur Wright, 31; Leroy Valentin Fernandez, 25; Tevin Eugene Crosby, 25; Jonathan Antonio Camuy Vega, 24; Jean C. Nives Rodriquez, 27, and Rodolfo Ayala-Ayala, 33. After reading these names, I could not help but think how young these victims were. After all, they had just gathered together to find some love and companionship among themselves.
At that gathering I thought of my earlier life in Trinidad and recalled how cruel we were and perhaps still are to those who are born or become gay or lesbian. I remember my neighbor and pumpkin-vine family, Wesley Crichlow, a professor at the University of Ontario Institute of Technology, and the painful book Buller Men and Batty Bwoys he wrote about his being gay and black in Toronto and Trinidad. He says, I get so mad when "I hear Black people say you carr be Black and be a buller man at the same time, despite all the hard work I does put into the community."
In Jamaica, there is much violence against gay people. In "Jamaican gays flee to save their lives," Tony Thompson describes the hell gays go through in Jamaica. In one gripping story he allows Fitzroy, a 28-year-old musician, to speak for himself: "It's terrible," he says, "I can't have peace and freedom like everyone else. If I walk down the road, all I hear is 'batty man, him hafi dead, shoot him, slit him.' I can't find work—I had to leave my last job when my boss found out—and I can't find a home. It doesn't matter how much you try to hide it." (London Guardian, October 20, 2002)
Such persecution does not exist in Trinidad nor do I expect us to replicate the Orlando tragedy. That more than half of adult Trinidad and Tobago (a guesstimate) are homophobic causes us to wonder about the safety of gays and lesbians in our society. None of the Orlando victims could have anticipated their fate but at least, for their families' sake, they were more fortunate than the 32 LGBT people who died at the Upstairs Lounge in New Orleans in 1973. Many of these victims were unidentifiable because they used fake IDs and aliases to hide their identities.
It was remarkable that young and old, black and white, Christians, Jews, and Muslims came together on a cool spring evening to celebrate life and love and to show solidarity with gay people and the families who had lost loved ones. After we read the names of all the 49 victims we lit our candles "to light the way of hope and life which is always more powerful than hatred and violence."
As the evening drew to a close one of the women in our midst raised the anthem of the women's movement of 1970s, "Singing for Our Lives," that always soothes the hearts of those who are in pain. It says: "We are gay and straight together/and we are singing for our lives./ We are a gentle, loving people/and we are singing for our lives."
It was a fitting way to end a heart-rending evening. Prince William, Duke of Cambridge, says: "Such violence does not exist in a vacuum but snowballs from intolerance and bullying that begin in the classroom" (Attitude, July 2016). I hope the barbarism in Orlando forces us, Trinidadians and Tobagonians, to reconsider our attitudes towards gay, lesbian and transgender people in our society.