By Nalinee Seelal
Wednesday, May 18 2016 – newsday.co.tt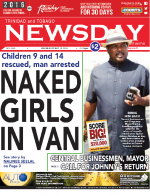 POLICEMEN recoiled in shock and horror yesterday when they found two intoxicated sisters, aged nine and 14, naked and lying on the seats inside a heavily tinted Nissan Navara van. The 39-yearold driver, found clad only in his underwear and a jersey, was immediately arrested and remains in custody.
According to reports, at about 10.50 am, a party of officers led by Ag Sgt Ramlogan and including PC Leelum and others were on an exercise when they observed a heavily tinted black Nissan Navara van parked in an abandoned Caroni Ltd cane field near Cedar Hill Estate in Barrackpore. Officers instructed the driver to come out of the vehicle and submit to a search, but he instead started the engine and drove off at high speed. Officers gave chase and the van was intercepted and forced to stop a short distance away. The officers quickly surrounded the van. What they saw inside made them recoil in horror and revulsion. They saw a 14-yearold girl, naked and lying on her back on the front passenger seat which was reclined. On the backseat, also naked and lying down, was a nine-year-old girl. Both children appeared disoriented.

Officers found quantities of alcohol inside the vehicle, leading them to theorise that the man made the girls drink in order to impair their senses and make them easy victims.
Police sources told Newsday the sisters were unaware of their surroundings when they were rescued.
The 39-year-old man who is from Princes Town, was clad in a boxer shorts and jersey. He was arrested and taken to the Princes Town police station.
The children were allowed to put back on their clothing which was found in the van and taken to the Barrackpore Police Station where a Woman Police officer from the Child Protection Unit (CPU) spoke to them and later accompanied them to the District Medical Officer.
A medical exam, Newsday was told, later revealed the nine-yearold was sexually assaulted and there appeared to be a 'hickey' (love bite) on her neck.
Medical tests on the 14-year-old girl found no sign of sexual activity.
The teen later told police the man had carried out indecent acts including grievous sexual assault on her and at the time the police intervened, he was about to rape her.
The suspect, who is a technician, is said to be a long time friend of the children's father and reports revealed the children were sent by their mother to purchase some items in the Princes Town area when the man, who was driving his van near to where the sisters were walking, called them to the vehicle and told them, "let's go for a ride." Knowing he was a friend of their father, the girls got into the van.
Police sources said the children's mother, when contacted began to sob on being told by police of the incident. She told officers she trusted the man even with her own life and never expected him to prey on her daughters. She said she read stories in the newspapers about children being sexually assaulted, but never thought for a moment, it would hit home as she considered herself to be an extremely cautious parent when it comes to her children. Yesterday, head of Police Southern Division Snr Supt Irwin Hackshaw commended the officers for their keen sense of observation which allowed for a predator to be held and two children being rescued.
He added that any sexual act committed against children is extremely serious and he and his officers have adopted a zero tolerance against this and all kinds of crime.
Snr Supt Hackshaw advised parents to be especially careful who they allow their children to be with.
Police said criminal charges are expected to follow when the investigation is completed. Recently, officials from the Children's Authority stated that within a nine-month period, over 1,000 cases of sexual assault on children were reported.
Officials spoke of sex predators on the loose and pointed to low detection rates of this and other crimes against the nation's innocent.