By Raffique Shah
January 11, 2016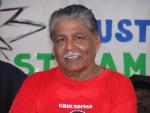 "I don't know who Jit Samaroo was, but listening to others speak, he must have been a great man…my condolences to his family."
That was a caller from Princes Town to TV6's Morning Edition's host Hayden Blades, who devoted much of last Friday's programme to persons wanting to pay tribute to Jit, who had died the day before.

The substance of the call-I don't know who he was-sums up one of the tragedies of our time: far too often, the real heroes of our country, those who make immeasurable contributions to its development, remain unknown to many in the society, most of all and worst of all, to school children.
I'm sure if the question is asked about who Jit was, ninety percent of students, including those at university, know nothing about this musician extraordinaire, a veritable Beethoven or Louis Armstrong, who, in his relatively short lifetime, helped lift the standard of local music, especially pan music, to dizzy heights.
Jit is (correct tense…his music lives on) among the pantheon of local musicians who elevated the art form from "beating pan" to "playing pan".
He was not singular in this transformation of the national instrument from "biscuit drum" to the finely tuned, fully chromed tenors, cellos and others that we take for granted today. Many others made their mark along that rough journey from the 1930s when pan pioneers were persecuted by their own families and communities, physically beaten by the police, and prosecuted by the colonial establishment.
In this wider historical context, Jit was a bit player.
But he was unique in so many ways: an Indian from one of the most rural districts in North Trinidad who was undoubtedly gifted, playing the cuatro and guitar as a little boy growing up in Lopinot, but falling in love with pan, and pursuing with unmatched passion and determination that saw him scale heights few attained.
When, at age 21, master-tuner Bertram Kelman took him to Renegades' panyard in the roughest part of East Port of Spain, and among some of the "baddest" men anyone could encounter, this little magician soon won their hearts and minds, and the rest is history.
But what history! True, it took more than a decade of dogged work before the 'Gades notched up its first Panorama title in 1982. What followed was an almost magical run for the band-an unsurpassed nine titles, twenty-nine appearances in the finals, many times just outside winners' circle.
If Jit's crowning glory was his role as arranger and the inspiration for Renegades, bear in mind the bonus for the band was that it retained its title sponsor-oil giant Amoco, then its successor BP-longer than any band other than Desperadoes (WITCO).
Jit's musical genius was not confined to Carnival and Panorama. He was also a great composer. According to his son Amrit (biography on When Steel Talks website), eleven of his compositions were selected as "test pieces" for other steelband competitions.
His repertoire includes jazz, ballads, Latin, gospel, folk, chutney and Indian music. I remember listening to his compositions at festivals-beautiful music.
For me, though, Jit's greatest achievement was when, at age eleven, in 1961, following his mother's death, he took charge of his twelve siblings, marshalling their musical talents, teaching them to play pan on instruments discarded by a band (Camboulay) with which he played.
Many who saw and heard those children perform (strings, pan, dance) described them as amazing. I became aware of Jit when they launched the Samaroo Kids steelband in 1967.
What none of us knew was that these children were playing for their supper, quite literally, for some five years before they became popular, and that Jit was their leader and inspiration. As the Samaroo Jets, they were one of the best stage bands ever.
If music was Jit's forte, humility was his hallmark. As a Renegades supporter (another story of my life, this one linked to Darcus Howe and company) who limed in the band's yard in the run-up to Panorama, I used to watch this unassuming, almost shy, man, stand among visitors, most of them unaware of who he was, as he quietly monitored the "drill-masters" take the players through the tune.
We spoke with each other on two occasions-I don't recall details. I realised he was a very private person, so I never intruded or sought to interview him in my capacity as a journalist.
As a nation, though, we must not ignore the few geniuses who have enriched the society with their gifted talents in whatever sphere they excelled in.
We desperately need role models for our confused youths. Start with Jit, Andre Tanker, Bertie Marshall…