By JANELLE DE SOUZA
November 22 2015 – newsday.co.tt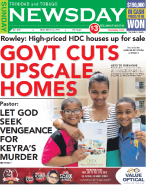 The Housing Development Corporation (HDC) will no longer build high-end housing units.
Instead, any future construction would be of more affordable units that meet the needs of the majority of applicants.
Prime Minister Dr Keith Rowley made the statement at the new Chaconia Crescent development, Four Roads, Diego Martin, yesterday during his feature address at the distribution ceremony of 120 keys for units at Chaconia Crescent as well as for Greenvale Park in La Horquetta.

He questioned whether the State could afford to give lower and middle- income persons multi-million dollar units that they could not afford.
"Is that what you expect of the national housing programme? Is it your dream house of $4 million if you are a professional? Well the answer is that the taxpayers of Trinidad and Tobago cannot afford to provide to people who are looking for affordable housing, multi-million dollar homes," he stated.
Rowley said an example of these expensive units was the Victoria Keys development in Diego Martin.
He noted a valuation stated that the cheapest unit was worth $1.6 million, while the top units were valued at $4.5 million.
He said since the mortgage or rent would be out of reach for the average individual, he asked Housing Minister Marlene Mc Donald to send a note to Cabinet for the most expensive units to be sold on the open market. Government, he said, would take a few for its use instead of paying rent to private individuals, and the rest would be made available for rent-to-own through the National Housing Programme to those who could afford it.
"I was advised that an additional $270 million was spent on those units. If you spend that kind of money on public sector units, what would we say to the taxpayers who paid the bill? So there will be no more of that. There will be no more three and four million dollar units being built by the HDC," he said.
Rowley went on to say that the housing programme was not in the Constitution so no one had a right to receive a home from the government.
Instead he said persons had the right to access housing made available according to their needs as they are capable of contributing to the cost of the unit.
He stressed that Government did not have the ability or resources to build homes for everyone who needs one. He said even if Government provided 8,000 per year, the HDC would not be able to satisfy the needs of the 200,000 applicants with more applications coming in every day.
However, he made the point that, although there was a money shortage in the public sector, it was not so in the private sector. "Our banks are awash with cash and one of the best places to put that cash is in a national housing programme," he said. Therefore, Government intends to take steps to encourage and engage the private sector to do more, offering incentives, so that housing construction would be funded by persons willing to pay a reasonable mortgage instead of the Treasury.
Rowley noted that private development costs would include the land, construction, and then market value.
However, with the housing policy subsidy, taxpayers absorb these costs. "We can't do that as a sustainable policy. We need to change the policy so that the government does not put out that money (to build) and then have to carry that subsidy," he said.
Noting that the units at Chaconia Crescent cost about $1 million but were being made available at $650,000, Rowley said more and more people were "coming after" the subsidy. "What prevents a person with $40,000 per month from buying (a home) in the private sector if the private sector house is available? And why is it that a person earning $8,000, $9,000 per month would have to compete with a person earning $40,000 per month for subsidised housing?" he asked.
"What happens in Trinidad and Tobago is that dotishness ascends above common sense… We can have a comprehensive national housing programme where… the government gets involved, the private sector entrepreneurs get involved, the private sector land owners get involved, the banks get involved and at the end of the day, the national effort will see to satisfying the needs of all those who aspire to owning a home," he continued. He said Government would initially focus on completing unfinished developments before moving on to constructing new developments.
This new HDC directive is the second major housing policy shift disclosed this week by Government which has also announced a cut the income ceiling for applicants from $45,000 a month to $25,000.