New EFCL board unearths secret operation
By Darren Bahaw and Renuka Singh
November 14, 2015 – guardian.co.tt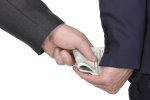 A secret contract millhouse was discovered at the Education Facilities Company Ltd (EFCL) in Maraval, and armed guards have been called in to secure a mountain of potentially damning evidence which points to the illegal manufacturing of backdated tender documents worth hundreds of millions of dollars.
The discovery was made one day after the new board of the state-owned company suspended its Chief Executive Officer Kiran Shah and Chief Operating Officer Sharma Maharaj over claims of impropriety.

Informed sources told the T&T Guardian that a member of the board found the "secret room" on the first floor of the Maraval building, which is opposite the Country Club and also houses the main branch of FirstCaribbean International Bank (Trinidad and Tobago) Ltd. EFCL occupies the second floor of the building and, unknown to staff, another room was rented on the first floor.
Sources said a new board member was stunned after finding three people busy at work in the "secret room" and called in security after realising they were working on EFCL business. The three people in the room, and another who was subsequently found to be part of the same operation, were sent home and their access to information technology at the company was suspended, sources said.
Accounting firm PriceWaterhouseCoopers has been called in to conduct a forensic audit of the company and has already taken a snapshot of the systems used in the 'millhouse.'
Sources said they have already discovered that the four select employees were hired to create contracts and tender documents for several existing projects which were already paid for in full. This was being done, according to company insiders, to validate the tendering processes to make them appear transparent and legal.
A preliminary report has revealed that contracts worth hundreds of millions of dollars were given out to select contractors in the run-up to the September 7 general election and they were paid in full without any work being done. Two contractors, who are financiers of the United National Congress, have been identified as the major beneficiaries of the scheme, sources said.
Sources said the forensic audit and a criminal investigation by the Anti-Corruption Investigations Bureau, which began in April, triggered this week's suspension of the two executive officers.
A whistleblower initially went to the police with a 108-page dossier detailing several instances of fraud and mismanagement. This sparked a police investigation centering around the award of several contracts over the last five years.
Sources said efforts had been made to axe the whistleblower but she stood up against her employers.
The T&T Guardian also learned that the execs' suspensions come mere months after the dismissal of a female civil engineer who clashed with the seniors over the contract with a preferred EFCL contractor.
Contacted yesterday, recently installed EFCL chairman Arnold Piggott confirmed the suspensions and audit.
Full Article : guardian.co.tt