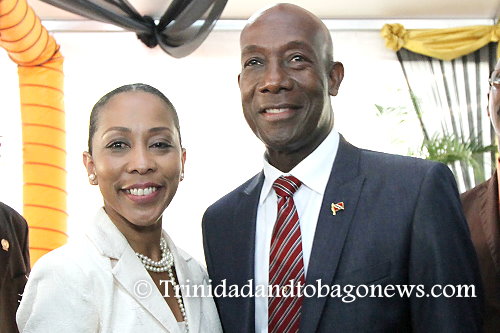 By Gail Alexander
November 13, 2015 – guardian.co.tt
Prime Minister Dr Keith Rowley will attend the upcoming Commonwealth Heads of Government conference in Malta accompanied by a small delegation including his wife Sharon, Communication Minister Maxie Cuffie said yesterday.

The conference which takes place from November 27 – 29 in the Mediterranean island state, will be Dr Rowley's first overseas trip since assuming office on September 9.
The Government is treating it as a high-level engagement, attended as it will be by Britain's Queen Elizabeth, the head of the Commonwealth, and heads of the more than 50 other member countries.
At yesterday's Government press conference, Cuffie said the delegation includes the Foreign and Caricom Affairs Minister Dennis Moses, an ambassador, acting High Commissioner to the UK, protocol officer, director of trade, foreign service officer, two security officers, Government Information Service Ltd media and Mrs Rowley. He said GISL was going to record Dr Rowley's first overseas trip.
Cuffie said the accompanying delegation was small, and quipped that Dr Rowley wasn't being accompanied by a hairdresser or makeup artist.
Cuffie confirmed a list of ministers who have made overseas trips in the short life of the new Government. It includes Attorney General Faris Al-Rawi (France), Tourism Minister Shamfa Cudjoe (Curacao), Labour Minister Jennifer Baptiste-Primus (Guyana) and Energy Minister Nicole Olivierre (Venezuela and Bolivia).
Cuffie also earlier referred to "high-level consultative talks" on energy, security and trade between the Foreign Affairs Ministers of T&T and Venezuela which occurred last month and which continued yesterday in T&T.
Sharon Rowley's presence on the trip opens up the Government to accusations of hypocrisy, as it has consistently accused its predecessors of unnecessary spending. Even so, opposition members were measured in response.
Full Article : guardian.co.tt