A LETTER TO CITIZENS OF TRINIDAD AND TOBAGO
From former PM Kamla Persad-Bissessar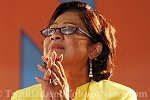 Dear Friends: Candidates, Volunteers, Supporters,
Democracy truly is a precious thing and the result of an election is an expression of the will of the people. All persons who are elected should take those responsibilities very seriously indeed and I congratulate the hundreds of thousands of you who exercised your right to vote and made this possible.

Again, I take this opportunity to congratulate my opponent Dr. Keith Rowley on his victory. I wish him all the best for the sake of all our people. Indeed, the citizens of Trinidad and Tobago deserve competent and effective governance and it is my hope that this new government can continue our legacy of performance and delivery.
Personally, I am very proud that so many promises were delivered during my government's time in office. The People's Partnership leaves our country in a far better position today than what we inherited in 2010. I hope the new Prime Minister will use all that has been achieved thus far, and build on it so as to ensure that development continues.
My passion was to serve in public office because I wanted to make a difference – because I want to make a difference and improve lives. As the saying goes, with power comes responsibility. I held office and power and used both for the betterment of people's lives. For the sake of our country let us all hope Keith Rowley now follows that lead.
We may not hold the reins of power but we will do our utmost to be patriotic citizens and an effective opposition.
Rest assured the United National Congress and the People's Partnership will be back stronger than ever before. In the meantime we will do our patriotic duty as members of the Opposition and we will prepare a programme that puts people at the centre and our country at the front.
I thank all our candidates, volunteers and supporters.
Kamla
https://www.facebook.com/KamlaPersadBissessar?fref=nf