By Raffique Shah
Jun 13, 2015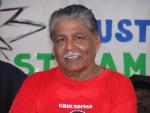 As she enters uncharted territory seeking a second term in office, the Prime Minister exudes a measure of confidence that is at odds with a widely-held perception that her People's Partnership coalition will lose the general election.
She and her ministers have made it clear that they plan to campaign on performance, which they hope will mute charges of corruption, waste and scandal that were deafening during the past five years.

Maybe they are right: for many nationals of this country, a regular "ten days" might be more than enough to win his support.
And unwittingly, as I shall show, the Government has altered the culture of its core supporters with respect to their work ethic, dragging them into the dependency syndrome, hence broadening the base of non-productive citizens.
Besides hundreds of miles of box drains, tens of thousands of laptop computers, countless hampers and made-in-China, portrait-bearing ceramic mugs and plastic bags distributed during her five years in office, the PM and her ministers have presided over a cultural revolution that is of such significance, its impact will forever change the psyche and lifestyles of Indo-Trinidadians.
And why not? After all, these are the UNC's core supporters who guarantee the party some fifteen seats that no other party can touch in the foreseeable future.
So, to further seal their support, why not forge a revolution, even if it was not so planned?
Let me cut to the chase, curb your curiosity: have you ever, in the history of the URP and CEPEP programmes, seen so many Indians propping hoes and brooms, leaning on spades, sheltering from the sun, all for $69 a day?
Never—not even under Basdeo Panday's administration (1995-2000).
Indeed, these make-work programmes were condemned by Indian leaders who saw them as the antithesis to the work ethic and culture of Indian people who always "worked hard for what they have".
Under PNM rule, the percentage of Indians who were so employed was very low—maybe ten per cent.
Even in predominantly Indian communities, the racial composition of these work gangs was skewed heavily in favour of Afros.
Maybe with justification, the PNM was accused of discriminating against Indians who wanted "ah ten days" from way back when. Whatever the reasons for the change, Kamla Persad-Bissessar, Suruj Rambachan and others have fundamentally altered the demographics of URP and CEPEP, and Indians' attitude to the dependency syndrome, maybe forever.
One consequence of this shift is that it will be almost impossible to resuscitate food production which is heavily dependent on manual labour over long hours.
Little wonder that for all the improved incentives on offer, the Government has failed to stimulate agriculture.
In another fallout from this URP "revolution", huge numbers of Indians now see food cards and other handouts as an easy means of mitigating their poverty without breaking sweat.
Like their Afro-brethren in urban centres, they shun under-employment in the retail sector or as domestic workers largely because between the make-work programmes and handouts, they no longer need to "slave for eight hours a day".
In essence, this freeness broadened the base of "lochos" in the society, from urban areas to rural districts.
Even as the Government boasts of full employment, the number of able-bodied people who "larhay" on street corners and near Play Whe shops has multiplied several-fold.
This cultural revolution has impacted the working—and middle class Indians as well. Time was when Government housing communities, be they single units (like Point Lisas Gardens) or huge apartment blocks, were occupied almost exclusively by Afros.
Again, whether that was by PNM's discrimination-design or because Indians shunned such communities, we may never know.
It is a fact that culturally, Indians would have been uncomfortable living in multi-storied, minimal-privacy apartments. Government's housing projects have long shifted to single units, town houses and duplexes: almost all such units distributed by the Partership administration were under construction when Patrick Manning lost the 2010 general election.
What was noticeable in the distribution process thus far is the number of Indians who happily accepted keys to live in communities that will be racially mixed. One can only hope that this shift in demographics will yield benefits by way of integration, and that these new housing estates will become havens of harmony, not zones of war.
As someone who stays aloof of the political mud-wrestling, I try to give credit where due and share blows when necessary. What matters to people like me is not who wins or loses an election, but how those in power govern.
In describing the "indianisation" of URP and CEPEP, I showed the unintended consequences of a Government's bid to redress an imbalance. In contrast, an even distribution of houses holds out hope for harmony.