By Richard Lord
May 15, 2015 – guardian.co.tt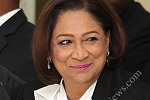 Prime Minister Kamla Persad-Bissessar yesterday admitted to becoming stressed out after reading the reports of Deputy Director of Public Prosecutions Joan Honore-Paul criticism of her over the Emailgate probe.
She made the admission during a Mother's Day function at the Diplomatic Centre in St Ann's.
The PM initially began by recalling to the gathering "all the good times and memories" she had as a child growing up. She then recalled a personal incident with her grandson, who had told his aunt that he was stressed.

After the narration about the incident, however, Persad-Bissessar then said: "But I woke up this morning I was like my grandson, I am stressed. I open the newspaper (and) I am stressed."
Persad-Bissessar said, however, that she opened a new school in Maraval hours before and after her stressful morning, "the day has turned out so wonderfully well."
Persad-Bissessar did not specify what story or stories stressed her out, but the T&T Guardian's front page story had the headline "Deputy DPP slams PM for Emailgate claims – No one cleared."
Roundtable gathering
Persad-Bissessar also commented on Wednesday's roundtable meeting in Port-of-Spain involving trade union leaders, former prime minister Basdeo Panday and others.
"Recently I saw a lot of men all ganged up and sitting at a roundtable. I saw all these men and their one aim was to get Kamla out," she said.
"I want to tell you … we women are very strong and with my strength and your support I will be the woman left standing."
She said she would like to make sure she was not the first and last woman to head a government in this country.
~~~~~~~~~~~~~~~~~~~~~~~~~~~~~~~~~~~~~~~`
CLEARED AND HAPPY
Prime Minister Kamla Persad-Bissessar said yesterday she felt happy and vindicated by the release issued by the Deputy Director of Public Prosecutions (DPP), Joan Honore-Paul.
A wrong must be corrected
FORMER speaker of the House Nizam Mohammed said Wednesday the suspension from Parliament of Opposition Leader Dr Keith Rowley was "troubling" and set a "dangerous precedent" for democracy in Trinidad and Tobago.
Jack wants Rowley suspension revoked
Rowley calls on PM to reinstate him or call elections
Moonilal: Suspension stays for Opposition Leader
Rowley to sue for Facebook claims
Opposition Leader Dr Keith Rowley has demanded Prime Minister Kamla Persad-Bissessar immediately remove from her Facebook page statements he describes as libellous. He wants the Prime Minister to remove the posts made on May 11 and 12 and apologise, or face legal action.