By Sheila Rampersad
May 08, 2015 – trinidadexpress.com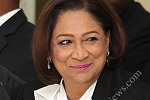 When incumbent Prime Minister Kamla Persad-Bissessar was an opposition MP, she read into the Hansard a letter written by People's National Movement (PNM) councillor Dhansam Dhansook. The letter, addressed to then-Prime Minister Patrick Manning and read in Parliament by the Siparia MP on April 28, 2005, alleged Dhansook paid then-Energy Minister Eric Williams a $75,000 bribe and then-Works and Transport Minister, Franklin Khan, a $120,000 bribe. Dhansook further alleged he had received death threats in relation to the matter.

Dhansook would later recant the allegations. In December 2007, Williams was released from seven charges of unlawfully accepting money from Dhansook. Magistrate Lucina Cardenas-Ragoonanan, in dismissing the charges against Williams, said the evidence given by Dhansook during the trial was "so tenuous" that a jury, properly directed, could not convict.
Three years later, Khan too was freed from multiple corruption charges. Director of Public Prosecutions (DPP) Roger Gaspard, in discontinuing prosecution of Khan, told the San Fernando First Magistrates' Court, "Dhansam Dhansook is not the type of witness the prosecution chooses to mount any further prosecution against Mr Franklin Khan."
I recalled the Dhansam Dhansook affair several times on Wednesday as the same MP for Siparia, now Prime Minister, led her charges in a motion to censure and suspend from the Parliament Opposition Leader Dr Keith Rowley. I wondered whether, using the arguments delivered by the Government members, the current Prime Minister could have been suspended from Parliament back then.
Of course she could have been.