Griffith to take up Sports Ministry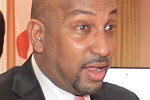 Minister of Sport and Youth Affairs Anil Roberts has resigned.
Speaking at the post Cabinet media conference at 4.45 p.m., Prime Minister Kamla Persad-Bissessar announced that she has accepted Roberts' resignation, in the wake of several allegations of corruption arising from the Life Sport programme.

Roberts remains Member of Parliament for D'Abadie/O'Meara.
Acting President Timothy Hamel-Smith to appoint Rupert Griffith as new minister of sport.
Continue : guardian.co.tt
~~~~~~~~~~
The Following is Persad-Bissessar's full statement:
STATEMENT OF THE HONOURABLE KAMLA PERSAD-BISSESSAR, SC
PRIME MINISTER OF TRINIDAD AND TOBAGO
AT THE POST-CAB PRESS BRIEFING
ON
THURSDAY, JULY 31, 2014
I continue to be disillusioned, disappointed and distressed by the level of deception and dishonesty associated with the well intentioned LifeSport programme.
The background is well known. At the hint of corrupt practices I immediately ordered that the initiative be switched to the Ministry of National Security and instructed an independent audit be conducted.
After the findings of this audit were made available, I instructed that the report be sent to the Acting of Commissioner of Police, the Integrity Commission, the Head of the Public of the Service and the DPP for consideration.
But even as we await the finding of these independent institutions on the matter, the usual duties of the Minister of Sport are being burdened with the mounting controversy and questions surrounding the LifeSport programme.
I have allowed due process to occur, I have demonstrated patient allowance for all sides of the story to be heard through an independent audit.
I have given careful consideration to the rapidly emerging issues and have resisted quick judgment and rash decision.
The election of this government has changed the political landscape. The expectation of the public that something will be done when wrongs are committed in public office are now the hallmarks of good governance.
Consequently, I have decided to accept the offer of resignation as Minister of Sport from Mr Anil Roberts.
Further I have advised His Excellency, the Acting President of Trinidad and Tobago, Timothy Hamel-Smith that with effect from today Thursday July 31st 2014 in accordance with the provisions of section 3 (9) and 79 (1) of the Constitution of Trinidad and Tobago that the appointment of Anil Roberts as Minister of Sport be revoked and that Dr Rupert Griffith be assigned the responsibility for Ministry of Sport in addition to his present duties as the Minister of Science and Technology.