By Geisha Kowlessar
June 04, 2014 – guardian.co.tt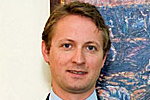 The media in T&T could be a voice for change but instead they make pornography out of crime, says British High Commissioner Arthur Snell. Snell, a member of the Rotary Club, was delivering the feature address at the club's luncheon at Goodwill Industries, Fitz Blackman Drive, Port-of-Spain, yesterday. Focusing on the topic, Taking Responsibility, Snell also zeroed in on the issue of childhood.

He referred to nine-year-old Jadel Holder, who was murdered with his brother, Jamal Brathwaite, 15, at their home at Coconut Drive, Morvant, on Sunday. Holder and Brathwaite were made to lie down and shot in the head at point-blank range. Snell said: "What does it mean to be a nine-year-old boy? "That's a transitional age. You are a little child but you are now becoming aware of the adult world. Maybe you are just discovering that your parents are not always right.
"Sometimes you ask them a question and they don't have an answer. The nine-year-old boys that I know still like a really cool toy that does something clever." Before shock, outrage and horror could be expressed over the incident, he said, it was important to note how it was reported. He quoted media reports in which people who were interviewed shortly after the murders said sooner or later they were bound to happen. One neighbour reported the boys kept bad company while another described Holder and Brathwaite as "terrors."
"So the message here is pretty simply, 'Yes, it is sad but it was their fault. It's not our responsibility…' Blame the kids, blame the mother, blame the absent father and if that fails, blame the police. "Demand they take tougher action, arrest more people. Don't worry there is no evidence, this has never worked—just do it again. It's not our responsibility," Snell said.
Saying taking responsibility was something people were not very keen on, Snell said it was his belief that Holder's murder was the responsibility of everyone, including Rotarians and other citizens. "It's too easy. It's too convenient to say that these boys got into bad company. "I want to know what's happened to a society where a small child who gets into bad company ends up shot in the back of the head. So who's taking responsibility for that?" Snell asked.
He also referred to an instance in which a daily newspaper published a front-page photo of a man's severed head on a table. On what impact this could have had on young children. Snell said his daughter, who was five at the time, was upset by the photo. "Perhaps Jadel Holder saw that picture and perhaps it taught him to value human life a little less. How many other children saw that image? What is the impact of this on young minds? he asked.
He added: "I am not questioning the sanctity of freedom of speech. I am questioning the sanity of the editors that decide to put these images on the front pages. "There is a very simple word that describes degrading, exploitative, sensationalist vulgarity in the pursuit of commercial gain. That word is pornography," Snell added. Snell then turned his attention to those whom he termed his "own people"— diplomats.
He said: "We come and spend a few years here. We have our little vanity projects. We compete between the different embassies… who has got the best media strategies, who has the fanciest party. "We inhabit a little exclusive world of self-congratulatory circularity. We occasionally make carefully planned forays into pre-sanitised so-called 'hotspots' before we retreat behind the high wall of our embassies.
"And how many of us diplomats can honestly say we have done anything to change the world that Jadel Holder was born into?" Snell asked. He said it was far easier to bemoan the state of the nation at dinner parties and then simply move on.
No escape for politicians
On politicians, Snell asked what example they were setting and to what extent responsibility resonated with the political class. "In the Westminster Parliament, we used to talk of political decisions being made behind closed doors in smoke-filled rooms. In this country it seems that a different sort of activity goes on in smoke-filled rooms," Snell said. He said he had lived in T&T for just over three years and had devoted a considerable amount of time understanding the politics.
"But I am genuinely unable to discern any distinctive policy of any major political grouping in this country beyond 'when we are in power we look after our people.' As far as I can tell that seems high on the manifesto," Snell said.
Source: guardian.co.tt