By Raffique Shah
June 01, 2013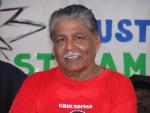 AT all times, human beings must be able to distinguish right from wrong; it is what differentiates us from other life-species. At all times, too, man must have the fortitude to stand up for what is right, to speak out against injustice, whatever the consequences he may face for his outspokenness. Today I feel compelled to make such stand on an issue that many may deem unimportant, and for which I risk being condemned.

Tomorrow, the Privileges Committee (PC) of Parliament is scheduled to meet to consider a complaint against Opposition Leader Keith Rowley. I do not know the specific charge or charges Rowley faces, but I know they stem from the string of e-mails he introduced during the debate on a no-confidence motion against the Government that he piloted two weeks ago.
At the end of the debate on that motion, the Prime Minister moved that Rowley be referred to the PC, saying he had "wilfully and deliberately misled the Parliament by presenting documents which he knew were a mere fabrication". Speaker Wade Mark, who in similar circumstances in the past took time to consider whether a prima facie case had been made before ruling on the request for referral, did not hesitate on this occasion.
I should add here that Rowley is very capable of defending himself. He proved that when the Integrity Commission accused him of wrongdoing in the "Landate affair', and in other challenges he faced within the PNM when he ran afoul of then leader and Prime Minister, Patrick Manning. Rowley has publicly stated he is ready to face the consequences of his actions.
Still, what is at stake here is a gross violation of the principles of natural justice against which I must speak out. You see, eventually, Rowley may well have to face the PC or some other judicial body. But justice must be allowed to take its course, and no one must abrogate due process.
The fact is that the Prime Minister, on the very day Rowley read the e-mails into the records, stated in public that their veracity and the serious matters raised in them, some criminal, warranted proper and tho­rough investigations. As such, she formally reported the matter to the acting Commissioner of Police. Although she and the Attorney General, whose names featured prominently in the e-mail trail, denied writing, receiving or exchanging what were attributed to them, they provided no evidential proof of their innocence, just as Rowley produced no proof of guilt.
In accordance with the rules of natural justice, there should first be a thorough investigation to determine whether the e-mails are genuine or bogus—which process has begun, albeit in a contentious environment. Indeed, Deputy Police Commissioner Richardson and his team have already interrogated Rowley. Rowley has also agreed to hand over to the investigators his computers and other IT devices.
Since the investigations began, all parties have agreed there might be the need for foreign expertise to assist. Up to the time of writing this column (on Saturday), the Prime Minister, Attorney General and other Government officials named in the e-mails have yet to be interrogated by the police or provide their IT devices for examination.
At this stage, therefore, we do not know if any of the e-mails are genuine, or if they were fabricated (as Government personnel are suggesting), or if some other devious person or people devised the entire dossier to deceive the recipient and discredit senior members of the Government. I repeat, we do not know the truth—and that is fact.
In this hazy scenario, how can the Privileges Committee, which, as I understand it, comprises the Speaker, a few Government MPs, and fewer Opposition MPs, conduct its own probe and determine that Rowley is guilty of serious misconduct if not a criminal act (or acts)? Who on the PC has the IT investigative skills to prove the e-mails are bogus? Who among them can prove he "wilfully and deliberately misled the House"? None!
If they choose to proceed with the charade, they would underscore a point I made last week, more or less saying that Parliament has been reduced to a house of ill repute. What they will convene is a partisan lynch mob that has pronounced the accused guilty before the trial. And if everyone else in the country is happy with this descent into hell, I am not, and I say this loudly and clearly.