Plot to cover up section 34
By Gail Alexander
May 21, 2013 – guardian.co.tt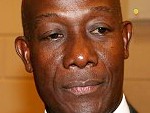 Opposition leader Dr Keith Rowley wants the Director of Public Prosecutions (DPP) and the Integrity Commission to probe e-mails purportedly bearing the names of frontline government officials who allegedly wanted to tap the DPP's phone after the Section 34 furore. Rowley also claimed the e-mails revealed moves to shift the DPP to the judiciary and further discussed intended intimidation of a T&T Guardian reporter who broke the Section 34 story last September.

The PNM leader alleged the contents of the e-mails were all part of a conspiracy which was afoot among Government's frontline members last September to deal with the heated situation the administration had to face when the Section 34 issue broke. Rowley dropped the bombshells when he launched yesterday's Parliament debate on his motion of no confidence against Prime Minister Kamla Persad-Bissessar and her Government. In an immediate response, Persad-Bissessar announced that she had written acting Commissioner of Police, Stephen Williams, to start a probe into the claims.
Full Article : guardian.co.tt
SCANDAL
By Andre Bagoo
May 21 2013 – newsday.co.tt
SCANDAL broke out in the House of Representatives yesterday as Opposition Leader Dr Keith Rowley piloted his motion of no confidence against the Government.
As the nation watched the broadcast of the opening of the motion live on television, and in front of a packed public gallery which included primary school children, Rowley read from documents which he said were email exchanges sent between officials in relation to the Section 34 affair. At times, however, Rowley read out jarring obscene language contained in the emails.
The emails read out by Rowley alleged a conspiracy which, at various points, mentioned: the offices of the Prime Minister, Chief Justice, Director of Public Prosecutions; Attorney General, Local Government Minister, the Prime Minister's security adviser; the spy-unit Strategic Services Agency; PP Government Facebook campaigners; email exchanges in the dead of night and, apparently, one attempt to bribe by way of a plum judicial appointment.
Rowley's contribution also suggested a plot to murder a female reporter. The emails read out by him also purportedly related to sensitive and personal events in that woman's life.
Full Article : newsday.co.tt
***
Prime Minister: It's a total fabrication
By Miranda La Rose
May 21, 2013 – newsday.co.tt
PRIME MINISTER Kamla Persad-Bissessar last night described as "total fabrication", emails purportedly sent by herself and Government officials on the issue of Section 34. The Prime Minister hastened to add, at a press conference, that she has written to Acting Commissioner of Police Stephen Williams, asking that an investigation be undertaken into the authenticity of these emails.
"I want to say that it is a total fabrication, as far as they (the emails) implicate my name," Persad- Bissessar said at the Noor Hassanali Room, Office of the Parliament, Tower D in Port-of-Spain.
Persad-Bissessar added that she has also been advised, that emails purportedly from Attorney General Anand Ramlogan and her security adviser Gary Griffith, "are also fabrications."
Full Article : newsday.co.tt
UPDATE: MAY 22, 2013
'Rowley emails' a hoax says Griffith
By Andre Bagoo
May 22, 2013 – newsday.co.tt
GARY Griffith, national security adviser to Prime Minister Kamla Persad-Bissessar, yesterday described as a "hoax" the purported emails presented in Parliament by Opposition Leader Dr Keith Rowley and called on him to resign.
In a press statement yesterday, Griffith categorically denied Rowley's claims, even denying one claim that he had referred to Attorney General Anand Ramlogan as his boss in an email. Griffith called on Rowley to make his claims outside of Parliament, where he would not be shielded from slander lawsuits.
"Further to the irresponsible and deeply unfortunate statements made by the Leader of the Opposition about emails being sent between the Attorney General and myself, I hereby challenge him to make the same statements outside of the cover of parliamentary privilege," Griffith said as he categorically denied the allegations.
"The Leader of the Opposition made spurious statements based on a trail of emails he claims were transmitted between me and the Honourable Attorney General," Griffith said. He said the emails were a hoax.
"The so-called trail of emails are littered with inaccuracies and the following are just simple points to show that this entire scheme was a hoax, and has caused irreparable damage to the image of the country by those who have an insatiable craving for power at all costs, inclusive of via lies and bogus emails," Griffith said. He said Ramlogan was not his boss.
"As stated in one of the false emails, the Attorney General is not my boss, so I would not refer to him as such, nor would or could I give him instructions on how to operate, as was stated in the list of bogus messages," Griffith said. He said Rowley was "set up".
"It is quite obvious that Mr Rowley was set up, probably by elements in his own political party who want him out, upon which he easily took the bait, and by him rushing without getting the facts to verify this hoax, has led him to a narrow path with no other option now than to submit his resignation as Leader of the Opposition with immediate effect," he said. Griffith continued, "This unacceptable action compounds the scant regard the Opposition has for citizens in their continued abuse of parliamentary privilege. If Mr Rowley can be so reckless and unprofessional to call a motion of no confidence on a government, based on emails that were not sent or did not belong to any government official, then he should do the honourable thing and tender his resignation forthwith. He has embarrassed the country with his inappropriate actions."
He said the style of the text of the emails attributed to the Prime Minister did not fit.
"I have worked side by side with the Prime Minister for three years and she has never used anything remotely close to obscene language," Griffith said. "I spent over 15 years in the Defence Force as a military officer, inclusive of being in command of the intelligence unit, so I am fully aware of the easy infiltration of emails, so why would I make such a stupid mistake to discuss such matters on emails?"
Griffith said his private information was being intercepted under the PNM. He further denied access to any "intercept activity" by the Strategic Services Agency (SSA).
"I have never had any access to any intercept activity with SSA, and even if someone wanted to, it simply cannot happen based on the Intercept (Act) legislated by the Government to prevent the abuse of such systems, and a re-occurrence of what was done by the previous administration."
He questioned why Rowley did not report the matter. "Why was this matter not immediately reported to the police, if Mr Rowley claims that he had this information several months ago?" Griffith asked. "Did Mr Rowley have soft copies of these so-called emails, or were these printed emails, which can be done by any person who can just run a trail of bogus emails, as was seen on the blogs with a fabrication of a conversation between two Opposition MPs, using their email addresses?"