Trinidad Guardian
March 01, 2013 – guardian.co.tt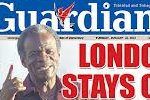 There is great cause for concern over the news that the Tobago House of Assembly (THA) plans to appoint former secretary of finance and enterprise development Dr Anselm London as a senior consultant in his former division, which is now headed by the recently elected Joel Jack.
Dr London, a man of advanced age, who stepped down ahead of January's THA election after serving in the position for more than 11 years, is the cousin of Chief Secretary Orville London. That alone raises questions and is generating considerable discomfort.

In addition, his proposed employment as a senior consultant in the division comes with a monthly remuneration package of $60,000, as well as other costs which are not yet in the public domain.
In seeking to justify the hiring of Dr London as a senior consultant, Mr Jack claimed his predecessor was the only person with the expertise in the field in Tobago. Since the position was not advertised, Mr Jack needs to explain by what means he and other members of the THA Executive Council determined that there is no other professional on the island with the technical capacity and knowledge for the job.
Full Article : guardian.co.tt