By Raffique Shah
June 16, 2012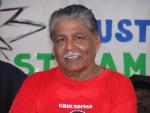 I SUPPOSE most people digested the news that a US judge jailed conman Allen Stanford for 110 years, yawned, burped and moved on to the next item. Except for victims of the Texan's multi-billion-dollar swindle, among them a few thousand from the Caribbean who lost their savings chasing a crooked shadow, Stanford's life sentence for a crime that is commonplace is of little more than academic interest.

I beg to differ. I think there are several lessons we should learn from the smart man's unholy mess that touched and tainted the fabric of Caribbean society. I don't remember Stanford's coming (in the region), although it must have been akin to Christ's in His time. I first noticed him after he had established himself in Antigua—a smartly dressed, slick-talking Yankee, who was described as a billionaire who had fallen in love with the Caribbean.
I recall my instinctive reaction to his big money presence in small island states where a few million US dollars still moved and shook the foundations of governments and rattled the hallowed halls of sacrosanct institutions. By then he had been elevated to "Sir Allen". He owned extensive business interests—an investment bank that offered tantalising interest rates, resort properties, a small airline that had big dreams, and more.
One could hardly read a newspaper or view television news without seeing his picture-perfect face, his disarming grin, and most of all the big bucks that he threw around like confetti. I suppose because I have a built-in "sh** detector", as Wayne Brown wrote of me many moons ago, in Stanford I saw and smelled a rat. I felt that he was bad news. But who was I to express my fears about a man who was wooing and winning, not to add wining and dining, many of the region's prime ministers, business magnates and cricket icons?
Then one day I had a chance meeting with a small island prime minister, and Stanford's name came up during our conversation. At the time, the Texan was making a bid to acquire LIAT. The story the politician told me confirmed my fears. It seems that while other leaders were receptive to Stanford's overtures (re LIAT), he opposed them because he felt that the airline should remain in the hands of the governments and people of the Eastern Caribbean.
When discussions stalled, Stanford turned up at his office toting a black attaché case, requesting a meeting. The PM agreed to talk with him. The LIAT issue was the only item on Stanford's agenda. The PM maintained his stance and explained why he did so. The Texan persisted, with the unopened attaché case now placed on the PM's desk, an inducement no doubt.
When he realised he was getting nowhere, Stanford retrieved the briefcase and, in a parting shot, said, "What Stanford wants, Stanford gets." The PM returned fire: "Eh-heh! America wanted Vietnam, you know!"
Stanford would have hardly seen his failure to acquire LIAT as a setback. By then his stature was such that, but for the integrity of a few regional leaders he might have made the cut to attend Caricom Heads of Governments conferences. He had the smaller islands in the proverbial bag.
His reach was longer, though, and his ambition bigger. When he penetrated the bastion of cricket, I thought all was lost—for the West Indies as a team and for cricket as a sport. It pained me to see icons like Garry Sobers, Viv Richards, Curtley Ambrose and others sitting at "Sir Allen's" feet. Indeed, the charade degenerated to the point where the fraudster was captured in a photograph with the wife of one cricketer sitting playfully on his lap.
The players who benefitted from his largesse would argue, with merit, that Stanford brought money into the one international sport that, until then, was excluded from big bucks that floated around football, basketball, athletics, tennis, golf and many other disciplines. True. And for all my misgivings about Stanford, I applaud those players who were recipients of his open wallet. I even understand why heroes like Sobers, who played for less than peanuts in their heyday, would seize the opportunity to make some money in their autumn years.
Too, if I cast aspersions at our small island mentality, what do I say of the overlords of Lord's who also embraced the Stanford carnival with more gusto than Antigua did? I'll never forget the obscene spectacle of the false-knighted billionaire landing on Lord's ground in a helicopter, hitherto holy soil on which only a select few were permitted to walk or play, because of his money. Nor can I forget the casino-like obscenity when the conservatives of cricket peered almost lecherously at a huge case that contained US$20 million in cash. Money talked. Big money made a huge statement that day, and for some time afterwards…until the police arrested Stanford in a Virginia townhouse in June 2009.
Did it matter to the politicians, the cricketers, the sports administrators and sundry others who benefitted from Stanford's vulgar largesse that the money he shared like trinkets came from the life savings of tens of thousands of depositors or investors who believed in his investment bank's operations? During the sentencing phase of the trial, gypped depositors cried blood and asked the judge to sentence the fraudster to 200-plus years in jail. Tens of thousands more, some of them Caribbean people, have no hope of recovering their life savings.
You know, in days of old pirates used to wear eye-patches, wield swords and hack their victims to pieces, mostly with the blessings of monarchs. Nowadays, conmen, local and foreign, commit their dastardly crimes dressed like kings, operating from palaces, often with the blessings of governments. Will we ever learn?