By Sean Douglas
October 23, 2011 – newsday.co.tt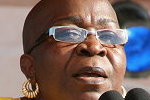 MINISTER of Gender, Youth and Child Development, Senator Verna St Rose-Greaves, on Friday hinted at an end to the marriage of underage girls as now allowed by law for certain religious groups.
While the age of sexual consent is 16 years old, St Rose-Greaves said that girls are allowed to marry at age 12 or 14 years old, in allusion to special allowances made for Hindu and Muslim marriages.

"We are about to begin consultations on the Marriage Act," she said during her contribution to 2011/2012 Budget debate in the Senate.
"We need a national discussion."
Earlier, she lamented some 278 reported incidents of illicit sexual relations involving underaged girls. She said that was the figure reported, alluding to even more cases, unreported.
St Rose-Greaves also made the startling claim that some men deliberately use gang rape as a way to try to infect their victims with the HIV virus.
TT seems to be afraid of the word "sex education", she said, as she called for HIV awareness to be better highlighted on the national agenda.
She also lamented the 940 reports of domestic violence last year, noting that 68 percent of these were complaints of assault by beating.
The Minister noted that of the callers to the National Domestic Violence hotline, some 86 percent were women and 12 percent were children, which suggests the remaining four percent were men.
This nation is in dire need of healing, she said, noting that 1,400 school pupils in Port-of-Spain had witnessed violence, including acts hurting family members and other persons close to them.
"We need a centre for healing," she said.
Old wounds in the population's psyche must be treated, so as to no longer be a burden on our collective soul or a sap on TT's positive energies, she said.
St Rose-Greaves also proposed various centres to respectively provide family interventions, respite to warring couples, drug-counselling, and help for men in transition if they have left home due to domestic violence issues.
She said people need to be encouraged to dream again, so as to help shape the nation. Recalling her childhood, when the father of the house placed the washing-tub in the yard so the waste water would irrigate nearby food-crops, she urged that lessons in sustainable living be taught to the younger generation.
"In this country we have children cutting down entire coconut trees to get to the bunch of coconuts," she lamented.
Vowing to soon bring children's laws to Parliament, she proposed a database of youngsters be set up so they could be kept track of, for their own good. She said boys are generally underperforming in school, except in the areas of technical/vocational education.
St Rose-Greaves said that "gender" is not about "them women again" but about the social relations between men and women, and boys and girls.
"We want to aim for a win-win situation. We want to move away from this ting of 'winners' and 'losers' and 'winner takes all," she said.
"That's not healthy for any society."
She invited the public to approach her ministry to share their views.
http://www.newsday.co.tt/news/0,149408.html