By Raffique Shah
October 09, 2011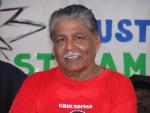 FOR the first time in many years, I am worried about the state of this country's economy. I am not among alarmists who see doomsday whenever the price of oil dips by a dollar. To the contrary, in the wake of global financial crises of 200-08, when commodity prices tumbled, I didn't even blink. Now, however, I'm wincing.

My discomfort has little to do with oil or gas prices, although that is a concern. I am worried because after decades of boom-busts cycles, we have done little to steer our economy away from its heavy dependence on oil and gas. Now, both commodities seem to be running low, if not running out. If or when they do, we have nothing else in place to save us from freefall.
Or do we?
I am writing this on the eve of Finance Minister Winston Dookeran's 2011-2012 Budget presentation, deliberately so. My meanderings will not influence the contents of Winston's speech and the measures he and his Cabinet colleagues have agreed upon. I am hoping, though, that the Government has given serious thought to a post-oil economy and has put in place strategies and mechanisms that will make the transition easier on citizens.
Oil production peaked as far back as in 1973-80, at just over 200,000 barrels a day. Since then it stabilised at around 125,000 bpd, which was comfortable. Recently, it dipped below the 100,000 threshold, and there are few indications that we will ever return to the comfort zone. There is lower drilling activity than ever—big oil is targeting potentially lucrative fields in and around South America and Africa.
In spite of assurances by Energy Minister Kevin Ramnarine that we can recover from this extended slump, I am not hopeful. With respect to natural gas, sure we are producing lots of it. In 2010 we produced close to 900,000 barrels of oil equivalent a day (boepd). Usage at Atlantic LNG, the downstream energy plants, and for purposes like power generation, account for around one trillion cubic feet of gas a year. And we are replacing it with zilch, with proved reserves standing at around 13 tcf.
Where are we headed, if not for the mad house? I am not suggesting we abandon gas, certainly not the downstream energy plants. If we need to buy gas from Venezuela to keep our methanol and urea plants up and running, that makes sense. Indeed, we should have closed a deal with Caracas to purchase its 7.5 tcf from the L'Oran Manatee cross-border field two years ago. For unexplained reasons, it seems that Caracas and Port of Spain are not on speaking terms. I don't know.
What I have noted here, and much more that is not written, suggests that moving in a direction that would make us less dependent on oil and gas is now an imperative. But there are few signs of alternative strategies. Manufacturing, once quite robust, has been in the doldrums for years. Food production is picking up, but we do not have the land space that will allow us to produce more than 20 per cent of our nutrition requirements. We have heard a whole lot about "knowledge-based economy", which confuses me: I thought knowledge is essential for just about everything we do.
The latest buzz words/phrases are "ICT" and "innovation-led economy" …more confusion for me. Really, have we not missed the high-tech flight? Microsoft's Bill Gates has retired and Apple's Steve Jobs is dead and we are yet to develop even an "app"! How the hell do we expect to compete against tech-savvy countries like India, China, Singapore? Let's get real, realise our limitations, and work with what we have, toward goals we can realistically achieve.
Truth be told, we have free education from pre-school through university, but on a pro-rated basis we are churning out fewer well-rounded, intelligent human beings than we did 50 years ago. Intellectuals? Forget it. They are so few, they are near invisible. Cultured? Wha ees dat? Soca or chutney?
Look, while I worry about my country, its economy, its future, I am entitled to a laugh or two. Seriously, though, how does the Government plan to mount an economic rescue mission in a period of inglorious uncertainties? We have some very bright and experienced people out there who are patriots, who will give their all for their people and their country. Tap into their fertile brains for solutions to the economic crisis that looms large on the horizon.
We cannot afford the luxury of partisan politics at this critical point. Already, we are saddled with an unacceptable level of indigence. Poverty affects the young and unemployed as much as it impacts on the aged, many of whom are condemned to die in destitution. Without adducing data, I can safely assume that around 500,000 people in Trinidad and Tobago eke out an existence barely above the poverty line.
It is time to address the imbalances in society that have brought us to this sorry pass. As we move to stimulate economic activity, we must simultaneously narrow the gap between the filthy rich and those who live in abject poverty. In the process, we do not eliminate the middle classes: we strengthen them.
Whatever is necessary to save us from falling into the abyss of a failed state, we must do it now. We cannot wait another year to act decisively. Dookeran has the onerous task of starting that process from tomorrow. His Budget must be an instrument for reconstruction of a wounded nation.