"…he is, unquestionably, the greatest Trinidadian of the 20th Century – the person who has had the greatest influence on the affairs of the country…"
By Jeff Hackett
Express
March 26, 1998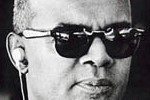 In the 1950s and 1960s, word was that the late Dr. Eric Williams was "the third brain in the world".
Nobody bothered to provide the identities of the persons ahead of Dr. Williams – members and supporters of the People's National Movement (PNM) were quite happy with his international cerebral rating.

With last Sunday's launching of the Eric Williams Memorial Collection at UWI, Dr. Williams's memory and image have been dusted and refurbished.
Four decades after Williams decided to 'let down his bucket' in his native land, the man and the myth persists.
And this is so, primarily, because he is, unquestionably, the greatest Trinidadian of the 20th Century – the person who has had the greatest influence on the affairs of the country.
He was the man who led the country to Independence and who shaped post-colonial Trinidad and Tobago, for better or for worse.
Dr, Williams was internationally recognized as a major scholar (his seminal work Capitalism and Slavery overturned a century of scholarship on the reasons for the abolition of slavery) as acknowledged as one of the fathers of regional integration.
He was a statesman who somehow found the time to write books and built the PNM into an impregnable political force. He was an excellent communicator, fascinating the masses with his oratory, addressing his peers at Oxford in Latin or impressing them with his brilliant discourses.
Williams was a larger-than-life figure and a winner.
He also had his frailties. One of them was women, according to a former Cabinet minister who was close to Williams in the early years of the party. He claimed Williams always had "woman trouble".
He confided that during Williams's stormy marriage to his first wife, the former Elsie Ribiero, a thick set Portuguese woman from St. Vincent, the man who had an unenviable reputation for intimidating Cabinet ministers, party members, relatives, civil servants and just about everybody, was routinely manhandled by his no-nonsense wife.
The relationship eventually ended in the United States in an acrimonious divorce. Williams was taken to court for child support and this last indignity was said to be the reason why he resigned his professorship at Howard University in 1948 to work full time with the Anglo American Caribbean Commission at Kent House, Maraval, as deputy chairman of the Research Council.
His second marriage, unfortunately, ended with the early death of his wife, the former Eveline Moyou and his secret wedding to Frederick Street dentist Mayleen Mook Sang in 1959 did not last as long as the proverbial Red House fire.
The late copper work artist and virtuoso masman Ken Morris, a friend and liming partner of Williams in the early days of the party, once told me that Johnny O'Halloran would procure literally dozens of beautiful women who worshipped the then youthful Prime Minister but he seemed more interested in chatting with them than indulging in amorous activities.
A journalist colleague, who was involved in the beauty contest business, might have had a different story to tell. He actually helped organize a relationship with a statuesque beauty queen in the early Seventies but Williams had to terminate the romance when it was discovered that the lady had a violent boyfriend who regularly battered her.
Williams did not get on well with people – he was rude, abrasive, overbearing, and insisted on having his own way.'
This resulted in his alienating the party stalwarts of the calibre of CLR James, Dr. Winston Mahabir, Sir Learie Constantine, Dr. Patrick Solomon, Karl Hudson-Phillips, Dr EC Richardson and others.
In the Caribbean, he was not on speaking terms with Barbadian leader Errol Barrow and Kamaluddin Mohammed, as Minister of West Indian Affairs, was delegated to mend fences in the embryonic stages of Carifta.
When Caricom came into being, Williams became reclusive and never ventured out of Trinidad and Tobago to attend any Heads of Government meetings until this quixotic behaviour became a Caribbean joke.
He intensely disliked the United States and Venezuela to the extent that he made only one official visit to the US.
He accused Venezuela of harbouring imperialist intentions in the Caribbean and in 1963, in an instance or rare political shortsightedness, turned down Venezuela's offer to become a founding member of the Organization of Petroleum Exporting Countries (OPEC).
A decade later, Williams tried unsuccessfully several times to become a member of this political oil cartel.
He was a man of contradictions and allowed himself to be bullied by big business, despite rhetoric to the contrary. The traditional commercial business elite was regarded as a political enemy but in 1969 Williams introduced legislation to prevent Alstons and other business houses from being acquired by British corporate raider Oliver Jessel.
The 1967 Finance Act, which sought to increase taxes, was seen as causing the break between him and ANR Robinson, who introduced the legislation.
Big business demanded Robinson's head: Williams had a cabinet reshuffle, removed Robinson from the Finance Ministry transferring him to External Affairs.
Williams was rude to party members insulting a village headman during his "Meet the People" tours in the Sixties.
His treatment of the press was no different, his acid tongue humiliating newsmen. At one press conference in 1970, one journalist had the temerity to ask Williams if journalists could look forward to more press conferences.
Williams's quick response was: "Keep looking forward."
Williams had his faults and his idiosyncrasies, which did not dilute his enormous success as a politician or perceived greatness as a statesman.
No one really expected him to die – we believed he was too smart for that.
His distinctive monotone and hearing aid, which was food for comedians like John Agitation, will remain forever with those of us who lived in the William's era.
And it will always be a job to separate the man from the myth.
http://www.nalis.gov.tt/Biography/bio_EricWilliams2.html