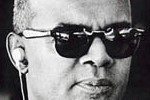 recalcitrant
1. resisting authority or control; not obedient or compliant; refractory.
2. hard to deal with, manage, or operate.
http://dictionary.reference.com/browse/recalcitrant
Did Dr. Eric Williams brand all Indians "a hostile and recalcitrant minority"? And, why did he make such a statement?
***
Excerpt from Dr. Winston Mahabir
"When the PNM lost the Federal Election in 1958, Eric Williams looked no futher than the Indians for a scapegoat. In a most unfortunate speech he branded them as 'a hostile and recalcitrant minority.'

"My wife and I arrived late at Woodford Square on the evening of that speech, while he was in the middle of his diatribe. I got an unusually subdued round of applause as I reached the platform to hear Eric Williams reveal something to the effect that he was not speaking about Indians like myself.
"It emerged that there were good Indians like myself and bad Indians like those who voted against the PNM. The speech and the experience were traumatic events in my life. I made my reactions abundantly clear to him that very evening. From that night onwards I never realy felt comfortable with Eric Williams. I felt USED, COMPROMISED, DECIEVED." (Winston Mahabir, speech at University of California October 16, 1965).
www.drmorganjob.com/article_text.php?article_key=66
***
Eric Williams and the Challenge of Caribbean Leadership
25th Annual Eric Williams Memorial Lecture, marking the centenary of Dr. Williams's birth, delivered at the Central Bank Auditorium, Port of Spain, Trinidad, on 11 June 2011. Dr. Colin A Palmer is Director of the Scholars in Residence Programme at the Schomburg Center for Research in Black Culture.
EXTRACT:
Williams's founding of The People's National Movement in January 1956 gave institutional expression to his vision of a nonracial nationalism for his country. The party's charter promoted the principle of interracial solidarity and cultural diversity. He explained that the PNM's animating ideology stressed "political liberty, social equality, racial fraternity."

These were important and commendable principles but the road to their achievement was sometimes quite rocky. Angered by the opposition of some Indians to the formation of the West Indies Federation and their support for the opposition party in the federal election of 1958, Williams denounced these dissenters as "a hostile and recalcitrant minority." This intemperate outburst was only directed at the chief minister's opponents but in its telling and retelling it came to mean for many people, a signifier of his racial ideology, and practice. It was a rhetorical misstep but given Williams's record, any racially abusive comment would have meant a repudiation of all that he had stood for throughout his life. His words represented a harsh indictment of those with whom he disagreed, not an indictment of an entire ethnic group. After all, many Indians supported the federal idea and the designated leader of the opposition in the Federal Parliament was Ashford Sinanan, a prominent and distinguished Trinidadian of Indian descent.
Full Article:
www.normangirvan.info/wp-content/uploads/2011/06/palmer-eric-willams-lecture.pdf
***
African and Indian Consciousness
Tony Martin
EXTRACT:
In the prospect of PNM rule, the more extreme elements of Indian nationalism saw writ large all the fears of their forefathers, who had consistently sought communal representation since the early 1900s. For H. P. Singh in 1956, 'A vote for a PNM candidate [would be] a vote against the Indian community …' And PNM rule meant, in the words of a Singh disciple, 'racist black fascist neo-colonial domination.' Singh was an executive member of the DLP but chafed at the efforts of its leaders to impose a multi-racial executive on its Hindu base. He insisted on a totally 'Indian organization – call it a political party if you will … We are conscious of the full implications of the advocacy of such a measure …,'

It was to this end that he formed the small Indian Association of Trinidad and Tobago in 1962.

Criticism of this nature, compounded by a PNM defeat at the federal elections of 1958, caused Williams to call the Hindu-based DLP a "'recalcitrant and hostile minority" … masquerading as the Indian Nation and prostituting the name of India "for its selfish and reactionary political ends."' In India itself, Williams showed, the (Trinidad) Maha Sabha's namesake had been denounced by leader Jawaharlal Nehru as representing 'small upper class reactionary groups taking advantage of the religious passions of the masses … ' He dismissed the local Maha Sabha types as 'reactionary Indian politicians who see the political leader as a man of racialism. …'

The PDP/DLP group underwent various name changes in later years. In a coalition with African (often ex-PNM) and French Creole elements it shared power in the National Alliance for Reconstruction (NAR) government of 1986–91, only to reconstitute itself as a separate party (this time called the United National Congress), when the NAR coalition unravelled. The UNC finally became the government in 1995, with the help of the Tobago-based remnants of the NAR.

The historic quest for Indian communalism has sometimes led, especially in recent years, to extremist demands for partition and/or secession. In the 1950s there were calls and rumours of calls for a Guyana-Trinidad unification, presumably to constitute 'an East Indian Empire.' Similar sentiments were said to have been expressed in the 1940s.

Trinidad's Indian Association in its 1962 pre-independence memorandum to the British government demanded 'parity' (defined as 50 per cent of civil service, police, legislative and other appointments) or 'partition'.
Full Article:
www.unesco.org/culture/caribbean/pdf/ghc_onlinechapter_vol5_chap6_en.pdf