By Christian Hume
September 01, 2011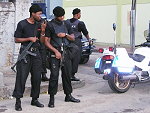 It was most disconcerting to witness Minister of National Security John Sandy and Attorney General Anand Ramlogan trying to convince the nation that the gang leaders from East Port-of-Spain and the East-West Corridor are the "big fish" that the entire nation are waiting to see rounded up and tossed into jail. When the country's top politicians decide to play blind, pretending not to see the reality that honest eyes among the population see all the time, then we know that times are stark and dark.

So let us jump straight into the melee – gloves off, condoms off – bare knuckled punches, bare-backed brushing – SERIOUS MATTERS!! So far as the State of Emergency has unfolded, we have been treated to the nightly spectacle of young African males being hauled off in police cars and the backs of police vans to God knows where. And we are expected to believe that this represents success in crime-fighting. We have seen no Indian car-parts dealers from the Bamboo and from South who send people to steal cars for spare parts being rounded up and tossed into a waiting pick-up. We have seen no rounding up of French-Creole, Syrian, or White white-collar criminals and drug dealers from the West who bring in cocaine through the ports of Pt. Lisas and Port-of-Spain, and through the yachts in Chaguaramas. We have not seen the person to whom the $8 million marijuana shipment at Pt.Lisas was mailed being arrested, nor have we seen the organiser or organisers of the $22 million dollar cocaine shipment that was recently intercepted at the airport being arrested. I am putting it to Kamla, Gibbs, Sandy and Ramlogan, that if no one is arrested for these two incidents at the end of the State of Emergency, then the ENTIRE debacle would have been all sound and fury, signifying absolutely NOTHING!!
If the State of Emergency ends with ONLY Africans from Nelson Street, Maloney, Mon Repos and other similar communities being detained, what do you think will happen when the "lull" alluded to by Opposition Leader Keith Rowley is over? Let me tell you what will happen. The Indian car-parts dealers from the Bamboo and from South will find other people to send to steal cars for spare parts. The French-Creole, Syrian, and White white-collar criminals and drug dealers from the West will find other "black hen chicken" to employ as lower-level functionaries of the narco trade, and the importers of illegal firearms will find other frustrated young black men to sell and rent their guns to. And the whole thing will start all over again on "Day 16" as Rachel Price calls it. I am not under any illusion that all problems will magically disappear if the sharks are rounded up, but rounding up the sharks will do a lot more than hauling in ah set ah blasted "fry dry".
To the East Indians, Syrians, Whites, and French Creoles, Douglas, Chinese, and others in this country who seem to be happy only with the rounding up of young black man in scenes reminiscent of the Trans-Atlantic slave trade, you need to look inward, look in the mirror. Yes, we know that most of the gun toters and trigger pulllers are black, but it you continue to refuse to acknowledge and throw the light on the crimes of people of your own "kind" – the crimes that facilitate the gun toters and trigger pullers, then do not seriously expect any reduction in crime that will last beyond the days of national sequestration that this SoE is shaping up to be.
Gregory Aboud has already warned that positions of privilege and lifestyles of affluence will not be sufficient to protect from the backlash. If you don't want to take it from me, then take it from him. If this State of Emergency is only going to play into short-sighted and stereotypical racist notions of what a "criminal" is, then we are creating far more problems than we can ever hope to solve. If the State of Emergency is only going to put on a public show of trying to hold back the river from flowing into the sea, as opposed to capping the stream at its source high up in the mountains, then we are setting up ourselves for a perennial cycle of spiraling crime, followed by empty fulminations, and we will ALL be the worse off for it, regardless of our race or place. Get serious!!