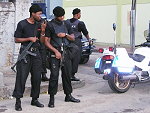 PRESIDENT WRITES SPEAKER
PRESIDENT George Maxwell Richards has informed the Speaker of the House of Representatives Wade Mark of the reasons for his declaration of a nationwide state of emergency on Sunday, explaining that he took the decision to proclaim an emergency because of a recent upsurge in murder and gang-activity and the need for "more decisive and stronger action" in dealing with crime.

Curfew Everywhere
COMMISSIONER of Police Dwayne Gibbs yesterday stated that the entire country is under curfew restrictions during the specified period of 9 p.m. to 5 a.m. This contradicts statements made by National Security Minister Brigadier John Sandy and Attorney General Anand Ramlogan.
Law Association: No such thing as 'limited' State of Emergency
Tobago not in crime 'hot spot'
THE TOBAGO House of Assembly (THA) in a press release issued yesterday stated emphatically that the sister isle is not considered a crime "hot spot" and as such is not affected by the 9 pm to 5 am curfew which is a feature of the state of emergency imposed as of last Sunday.
AG on calling of state of emergency: Clear and present danger
AG: Major crisis averted
THE state of emergency has successfully stopped a crisis which could have led to a major loss of life, Attorney General Anand Ramlogan has said.
Curfew stops drug-trafficking ring
The state of emergency has averted a major crisis in relation to the drug trade and has stopped the entry of an estimated $100 million worth of drugs in the illicit market, Attorney General Anand Ramlogan said yesterday as the police and Defence Force announced the arrest of 121 persons in the space of 14 hours.
Parliament to debate state of emergency September 2
'Wrong way to go'
Opposition Leader Dr Keith Rowley says the Government's decision to implement a limited state of emergency was triggered by last Thursday's killings in Jonestown, Arima, where four men were shot dead and three were injured by two gunmen.
Bonus for Govt, says Rowley
Government has gotten a "bonus" under the state of emergency of being able to throw a damper on trade union activity and on civil disturbance in areas where people are complaining about bad treatment by the Government, Opposition Leader Dr Keith Rowley said yesterday.
Rowley: PNM not supporting Govt 'wrongdoing'
The declaration of the state of emergency is the beginning of a lot of bad days for Trinidad and Tobago, Opposition Leader Dr Keith Rowley said yesterday.
'No industrial action can happen at this time'
NO form of industrial action can be taken during a state of emergency, National Security Minister Brigadier John Sandy, has said.
Union leaders: We're ready to be arrested
Labour movement gets new anthem
The trade union movement has a new anthem. The group, known for its singing and chanting at rallies, got some professional help from calypsonian D Original DeFosto Himself yesterday.
Emergency safeguards in place
The fears expressed in some quarters about the Government's motives in calling the state of emergency—and the claims that the Government intends to use this period to crack down on dissent—are unjustified given the constitutional safeguards that are in place.
Curfew affects lifeguard's hours
PSC members baffled by 'belligerent' AG
No 'rubber-stamping' by PSC
Rather than being "belligerent", "unproductive" and "aggressive", Government should be "appreciative" of the discretion used by the Police Service Commission (PSC) in making a retroactive appointment of Stephen Williams as Acting Commissioner of Police, a PSC source said yesterday.
Gibbs: My trip was approved
Police Commissioner Dwayne Gibbs says proper protocol was followed when he sought permission to leave this country on police business.
Opposition Leader: Gibbs' absence from country just madness
Opposition Leader Dr Keith Rowley says the absence of Police Commissioner Dwayne Gibbs from the country during the institution of a limited state of emergency is "madness."
PM not worried about country's international image
State of emergency must yield results
FORMER government senator Dr Patrick Watson yesterday said that any short term losses in production in the country during the state of emergency can be regained once the population is confident that this measure has achieved the objectives it was supposed to.
Author and ex-journalist Raoul Pantin believes the state of emergency is a necessary move
Woodbrook residents can now sleep
Residents of Woodbrook, particularly Ariapita Avenue, yesterday welcomed the limited state of emergency, saying it brought much needed "peace" to the community.
Catholic Commission praises Govt
SUPPORT for Government's decision to impose a State of Emergency has come from the Catholic Commission for Social Justice (CCSJ).
…Catholics back state of emergency
Muslim League supports emergency
THE Trinidad Muslim League (TML) yesterday expressed its support for the introduction of a limited state of emergency to deal with crime in the country.
56 gang members arrested, says Commissioner Gibbs
Gang leaders among 117 held
Fifty-six gang members were among 117 people arrested in operations by security forces between Tuesday night and yesterday morning, according to Police Commissioner Dwayne Gibbs.
Chief Justice appoints three lawyers to Review Tribunal
Chief Justice Ivor Archie has advised that he has appointed three attorneys, two of whom are eminent Senior Counsel, to serve as members of the Review Tribunal established under the provisions of the Constitution of Trinidad and Tobago and the Regulations governing the current State of Emergency.
Panday files writ claiming illegal detention of client
ATTORNEY and former Minister in the Ministry of National Security, Subhas Panday, has initiated legal action on behalf of a 31-year-old man who, it is alleged, is being detained under the Emergency Powers Regulations which governs the current State of Emergency.
'Don't be rude, Mr AG'
Ramlogan and Kalipersad in heated interview
Khafra Kambon: Emergency is no answer to crime
The images on the TV6 Crime Watch programme were disturbing, very disturbing. This was August 23, the United Nations Day International Day for the Remembrance of the Slave Trade and its Abolition, and thousands of households were watching a scene unfold on Nelson Street that, despite its bloodlessness, the absence of any visible police brutality, resonated violently in our souls, reminiscent of the Middle Passage and the slave plantation.
Residents: No guns seized
RESIDENTS of Nelson Street in Port-of-Spain are denying police claims of guns being found during Tuesday's lock-down exercise at the housing units.
Forces must make most of emergency
As the State of Emergency continues, the country must now look forward to the security forces making rapid headway with the agenda items listed by Prime Minister Kamla Persad-Bissessar: "the arrest and interrogation of key criminal elements, weapons confiscated and the disbanding of gangs."
Proceed with caution
We have already stated that we are in support of the Government's need to impose a state of emergency in the country. We believe that this action was necessary in order to control violent crime throughout the nation. Having said that, however, our approval and support is not to be assumed as blanket agreement for all that the Government has done, or appears to be doing, in their efforts to end the increasingly dangerous wave of crime.
25 nabbed in south raids
…residents claim police brutality
Guns and ammo seized
TWO firearms, five rounds of .38 and five rounds of .9 mm ammunition were recovered during a police exercise in New Grant over the weekend.