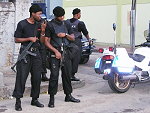 All of T&T under state of emergency—Minister
The state of emergency, and powers of the security agencies under this, applies to all of T&T and not only the six "hot spot areas", according to National Security Minister John Sandy. He stressed that yesterday during a media briefing at the Ministry of National Security, Port-of-Spain. Prime Minister Kamla Persad-Bissessar on Sunday night announced a "limited state of emergency" and a 9 pm to 5 am curfew in "hot spot" areas. Sandy said there had been a misconception that the state of emergency applies only to the six "hot spot" areas where the 9 pm to 5 am curfew was in force. Sandy said criminal elements who would want to "migrate" from "hot spot" areas to other parts of the country to avoid being nabbed, should be warned that the state of emergency applies all over T&T. He added: "So let it be known that the state of emergency exists in the entire country and the powers given to the police and the military exist in all areas of T&T."

'Invalid' order saved by appointment of Acting CoP
As legal sources raised doubt over the validity of the Emergency Powers Curfew Order 2011 yesterday, the Police Service Commission (PSC) moved to remedy a potential problem by appointing Stephen Williams as acting Police Commissioner.
Top cops must explain absence from T&T—PSC
Debate on Emergency
PARLIAMENT is to meet in the coming days to debate the state of emergency declared on Sunday by President George Maxwell Richards, Government Chief Whip Dr Roodal Moonilal confirmed yesterday.
Guns, ganja seized in east PoS; 22 held
…Cops, residents in standoff as 22 arrested
Police body urges lawmen to show restraint
Williams: Cops detain 4, seize guns, ammo in hot spots
…Four guns seized in Arima, Diego
…Guns, ammo found in five hot spots
Security forces recovered six guns and 825 rounds of ammunition from five "hot spots" on Monday, says acting Police Commissioner Stephen Williams.
Daly: Govt won't hang the Jack
Senior counsel Martin Daly said yesterday that while he was and still is in favour of the calling of a state of emergency, he had serious reservations about whether this Government was capable of making good use of it.
Gordon: Go after guns, gang leaders
Former Crime Committee head, Ken Gordon, has praised Government for implementing the State of Emergency in the battle against crime. He however expressed hope that it will be managed carefully with a lot of illegal guns being seized and gang leaders held.
Warner on state of emergency: Govt will not bend to criminals
The Government will not apologise for having the will to take the fight to the criminals says Works and Infrastructure Minister Jack Warner.
No interruption to road repairs—Jack
Works and Infrastructure Minister Jack Warner says road repairs in Pt Fortin and La Brea will not be affected by the limited state of emergency.
Public utilities work within curfew limits
Sick? Go straight to hospital
PERSONS with life-threatening medical emergencies who need to travel to medical facilities during curfew hours should head straight to those facilities, Acting Commissioner of Police Stephen Williams said yesterday as the State warned against frivolous applications for curfew permits.
Keep police phone numbers at hand
Health Minister Dr Fuad Khan is advising citizens to keep the phone numbers of their nearest police station at hand in case of emergency.
Outside of curfew areas 'Life goes on'
NATIONAL Security Minister Brigadier John Sandy and Attorney General Anand Ramlogan yesterday stated that persons living in communities in which there are no curfew restrictions are free to go about their business.
COP backs fight against crime
Congress of the People chairman Joseph Toney says the party "supports government's decisive action to deal with the recent increase in murders in our country."
Basdeo Panday: Govt acting on 'vaps'
A knee-jerk reaction was how former prime minister Basdeo Panday described this country's state of emergency, almost 48 hours after it was enforced.
ASJA backs curfew
One religious organisation has thrown its full support behind the limited state of emergency. Head of the Anjuman Sunnat-Ul-Jamaat Association, (ASJA) Yacoob Ali, however called for an extension to the curfew hours from 9 pm to 9.30 pm to facilitate Ramadan observances at certain mosques.
Ishmael: Muslims can pray at home
Chairman of the Muslim Social and Cultural Foundation Inshan Ishmael says it is not necessary to shift the curfew time beyond 9 pm to accommodate Ramadan prayers. While officials of the Anjuman Sunnat-ul-Jamaat (ASJA) and the Trinidad Muslim League (TML) have called for the time to be extended to 9.30 pm or even 10 pm, Ishmael expressed a different view.
Kamla: Gang wars looming
Prime Minister Kamla Persad-Bissessar has hinted at increased gang warfare with further reprisal killings between criminal gangs as one of the reasons behind Government's imposition of a limited state of emergency.
PM: Gangs on the run
Prime Minister Kamla Persad-Bissessar said the first night of curfew under the limited state of emergency has resulted in crime ground to almost zero.
Bandits break curfew, stage armed robbery
TWO armed bandits on Monday night disobeyed the 9 pm to 5 am curfew and staged an armed robbery, beating their victim with a gun butt in the process.
Diego family robbed during curfew hours
Fireworks off says Sandy
The traditional Independence night fireworks has been cancelled due to the state of emergency curfew, according to National Security Minister John Sandy.
Embassies caution travellers to T&T
Transport Minister: No more flights will be cancelled at Piarco
Police post at Piarco for passes
Transport Minister clears the air
Curfew brings changes to ferry sailing times
CAL: It's business as usual
CARIBBEAN Airlines will continue to operate on its regular schedule and pasengers arriving in Trinidad and Tobago during curfew hours can now acquire a pass at the airport.
No mass use of PBR
TRANSPORT MINISTER Devant Maharaj yesterday said Government is not considering opening up the Priority Bus Route (PBR) to the general public's use in light of the curfew restrictions under the state of emergency which was imposed on Sunday.
School as normal
PREPARATIONS for opening of schools in the new term across the country on September 5 should not be affected by the curfew which is a feature of the state of emergency, Education Minister Dr Tim Gopeesingh said yesterday.
Unions to work around curfew
The Government's State of Emergency and curfew restrictions will curtail the plans by unions for community meetings. The joint trade union leaders called an emergency session yesterday at Cipriani Labour College, Valsayn, to "strategise" the plans going forward.
Lee Sing fears 'totalitarian' state
HINTS of a totalitarian state are slowly creeping in, Port of Spain Mayor Louis Lee Sing has said. Lee Sing made the statement yesterday in response to the declaration of a State of Emergency…
Mixed reactions: peace for some; losses for others
ECA: Time has come for decisive action
Kambon: State of Emergency needs good strategy
A state of emergency has to be supported by a "well worked out" strategy since "terrible things can happen."