By Dr Selwyn R. Cudjoe
April 17, 2023
PART I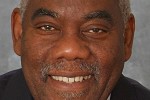 Two weeks ago I announced that I was taking a four-month hiatus from this column to concentrate on completing Two Caribbean Preachers. I did not know I would be back to these pages again so quickly. As fate would have it, Philip Douglin, grandfather of Rawle Douglin, is one of the preachers I am writing about. Sadly, Rawle Douglin, former bishop of T&T, passed away on Thursday, April 6.

I discussed Philip Douglin's work in my book, Beyond Boundaries (2003). Once I completed that book, Bishop Rawle called me to discuss his grandfather's life and legacy. He gave me a copy of the "Family Register of Philip Henry Douglin". It began: "Philip H Douglin marries Mary Lucretia Morgan at Fallangia, Rio Pongas [Sierra Leone] by Rev Turpin."
The register ended with the following entry: "On December 14th 1889 the Rt Reverend Bishop Hayes conferred on PH Douglin an Honorary Canonship in the Cathedral. He wrote a very nice little letter, and meeting in the [St Clement's] school room, he spoke in very high terms of him. At present PH Douglin is not only Canon in the Trinidad Church, but the first canon, and the only Negro Canon in the English Church." The last rites of his grandson, Rawle, were offered at All Saint's Anglican Church yesterday.
PH Douglin was born of enslaved parents in Scotland, Barbados, in 1845. He went to one of the primary schools there that was erected to educate enslaved children. In 1862 he entered Codrington College and studied under Richard Rawle, who remained his mentor and who became the first bishop of the Anglican Church in Trinidad. In 1863 when a decision was taken to send West Indian men of African descent to serve as missionaries in West Africa, Douglin jumped at the opportunity.
Although many Europeans served in these posts initially, the climate was thought to be especially fatal to them. Rev Douglin says the first missionaries "were altogether unfit for work in a new country like Rio Pongo. They were too old to begin to rough it in Rio Pongo… If the European missionaries had been a little younger, and had more and better care, they might have had a better chance in Rio Pongo".
When Rev Rawle left Barbados in 1864, Rev Douglin continued his training under Bishop Branch at St Andrew's Seminary. In 1867 after qualifying for Holy Orders, the West Indian Church sent him to work as a missionary in Rio Pongo or "the mud river", as it was called. Two years after Douglin arrived in Fallangia, he married Mary Lucretia, the daughter of a prestigious Barbadian family who had settled in Rio Pongo in 1861 "as Industrial missionaries".
This marriage produced seven children: Arthur St Pierre, Margaret Henrietta Philipa, Mary Rosetta, and Ernest Christopher in Rio Pongo. Douglin's three other children were born in Trinidad. Rawle Douglin, the son of Ernest and Christiana Hicks, who was named after Bishop Rawle, served as bishop of Trinidad and Tobago from 1993 to 2001.
Rev Douglin's ecclesiastical career progressed rapidly in West Africa. On October 22, 1871, he was admitted to the Holy Order of Deacons. Two years later he was admitted to Priestly Orders. Unfortunately, his health deteriorated. He never overcame the malaria fever he contracted when he arrived in the country. On February 14, 1873, Dr Smith performed an operation on his breast to remove a cancer that he had developed. His family register noted: "Although he was brought nigh unto death, he was safely delivered by our good God."
In 1886 Douglin sailed to England to see about his health. On March 24, 1877, after spending eight months in England, Douglin returned to Rio Pongo via Liverpool, where he continued his missionary activities. As the work piled up, Douglin's health continued to deteriorate. In May 1882, Mr McEwen was added to his team.
However, his hard work was paying off. On October 6, 1882, he was appointed as acting chaplain of St George's Cathedral in Sierra Leone, an office he held until November 8, 1883.
Meanwhile, Douglin was concerned about the changing fortunes of the mission. Fewer white missionaries were being sent to Rio Pongo. The authorities had begun to take the work of the black missionaries for granted. He wrote: "It is not from want of supervision, or of episcopal ministrations, that the mission is suffering. A white man of standing, force and energy, is of greatest need." Douglin knew that his superiors always gave the whites the support they needed to achieve their desired goal.
As a result of this indifference, Douglin became disillusioned with what was happening with the mission. Rio Pongo was not treating him well and the welfare of his children became a concern. He knew he had to provide a better life for them.
Douglin decided to retire. On July 8, 1886, AH Barrow, the secretary of the West African mission, announced: "The Mission suffered a great loss in the retirement of the Rev PH Douglin. He had done good work since he landed in Africa nearly nineteen years before, in October 1867."
On July 15, 1886, Douglin and his family left Rio Pongo and sailed for England once more, dusting every trace of Rio Pongo from his garments. On January 9, 1887, he left England for the West Indies "with all my children, and WH Duport in the Atlantis". On January 24 he informed the secretary of the board that he had accepted a post at St Clément's in St Madeleine, Trinidad. On February 10, 1887, he was inducted into St Clément's where he stayed until he died in 1902.