By Raffique Shah
April 10, 2023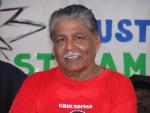 I believe it was the night before Holy Thursday, listening to news on radio or television, I paid attention up to when the announcer counted past seven murders. They might have been over a period longer than 24 hours. They might even have been less than the full day's score. What did it matter? I asked myself—and continued doing whatever I was doing.

Then realising that like so many citizens in this country who have been numbed by violent crimes, who do not even consider stealing from the public purse a "real" crime, I was growing inured to this unholy degeneration of my country. It was never crime-free—but 20, 30 years ago the numbers of serious crimes were such that we citizens could live with them.
Today the only numbers that matter are the ones we died for or from—killed in home invasion, shot by stray bullets, targeted by hit-men, and so on.
What struck me last Thursday morning, we were deep into a period of spiritual and religious celebrations in the many religions that live side by side on this small island, never having fought battles against one another. Or on the few occasions that the line of respect for each other was crossed, it was by some fool who knew nothing about the God he professed to represent or whose command he pretended to obey.
Really, this is an amazing country. Or all the talk we talk, all the whispering and giggling about one another's beliefs, we have never ever descended into hostile verbal warfare based on our beliefs. Which is why new Police Commissioner Erla Christopher's first line of defence against the satanic criminals who stalk the country was "Only God can help us". Like her predecessors, from Randolph Burroughs to Stephen Williams and everything in between, she pleaded with citizens to collectively pray to God for help in the fight against rampant crime.
But Madam Commissioner must know that she was appealing for divine help at the time when Christians were observing Holy Week, the cruel crucifixion of Christ; Muslims across the world were fasting in the month of Ramadan; Hindus were paying tribute to Hanuman; Spiritual Baptists—I hail Bishop Brother Ray Brathwaite; and other religions must have had other activities as well. How much more prayers does the Commissioner require as help in the war against crime? More than half of this population is praying at any given time, and that's a whole lot of people. Hell, even the criminals must pray before they engage in sadistic treatment of their victims, treating us as if we were animals being slaughtered in the service of God.
We need note that among multi-religious, multi-cultural societies in the world, T&T holds the enviable distinction of being one of the very few such countries that does not explode in inter-religious strife or, worse, open warfare—as is the case in countries that boast of being bigger and better than our tiny twin-island state.
You look on television at the state of blood spilling in the birthplace of Christianity. When the Creator or whoever was the spiritual architect set out to draw a map for people who say they are God's chosen, that architect seems to have made grave errors in judgment: suffering, murders, wars and every possible violation of human rights that you can think of, are embedded in Israel's unholy constitution.
Israel claims divine ownership of prime land in Palestine—or what ought to be Palestine, leaving others who can lay equal claim to that land suffering under the most brutal and inhumane conditions. Its armed forces are equipped with the deadliest weapons, all courtesy its western benefactors, and it uses them to make their neighbours' lives a living hell, virtual genocide.
Palestinians are a homeless nation. Whatever power they exert, as they must if only to show a presence on what ought to be their land, or shared land, the "sacred" Israelis wreak upon them the hellfire of their afterlives—only, they are still alive.
And to think that their recently re-selected Prime Minister Netanyahu has vowed to wipe Palestine off the map. So much for God's little acre and God's chosen people. Thank God, not in T&T.
And, that is just one multi-religious state that's in an unholy mess that makes our criminals look like peaceful shepherds by comparison.
In India, Pakistan, Myanmar, Indonesia, China, parts of Africa, Ukraine, much of Europe, hell, even in North and Latin America, there is religious strife that frequently erupts into bloody battles taking many innocent lives, and leaving masses of orphaned children and state-less people.
So, yes, our crime and criminals who perpetrate demonic acts of violence against their fellow human beings make us ashamed to belong to this country of which we were once proud. They can break our bodies but never our spirits. Never.