By Raffique Shah
January 30, 2023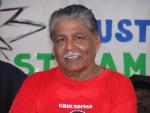 I suppose Trinidad and Tobago, being a small-island-state, very literally, has to be thankful for small mercies dished out by the super-powers of the world. In this case, big, bad USA, has finally agreed to issue a waiver on the sanctions it has imposed on Venezuela that will allow TT and Caracas to monetise an estimated 4.2 trillion cubic feet of natural gas from the Dragon field, which lies close to the international boundary between the two countries, but which belongs to Venezuela.

To show our deep gratitude to the USA, Prime Minister Dr Keith Rowley should probably consider declaring a 'Day of Thanks', on which all citizens of all religions, and those with none, should lie prone on the ground somewhere, sip liquid mud laced with J'Ouvert blue paint, and mutter one thousand times: thank you, Big Bwana- for nothing.
You see, this Dragon deal, which still hangs on an unstable geopolitical thread, has a history that could make a sane person laugh uncontrollably or an insane one run bezerk. The field was categorised as proved reserves more than twenty years ago and while Trinidad did not pursue it vigorously at a time when our daily production of gas and our reserves were good, it was always mutually beneficial for both countries to jointly monetise it.
Venezuela, the richest country in the West in oil-resources (except for the USA), also has immense natural gas fields. But it never exploited its gas, not even the way little TT did. It didn't need to—at least that was the thinking in Caracas: leave that 'petty' business to small states such as its neighbour, TT. But while an 8-trillion cubic feet in deposits at the Dragon field meant nothing to them, they were a virtual lifeline to TT, whose reserves were running low, and whose demand for a steady 4-billion cubic feet of gas per day was vital to us, what with our huge LNG plant and our position as the number one producer of ammonia in the world, with supplemental sources of methanol, AUN etc, we needed their gas, and ours that straddled our mutual boundaries, like yesterday.
The USA will have been aware of the urgency with which we needed these low-hanging fruits, but in their bid to remove the Chavez-Maduro axis of influence in these parts, they decided to squeeze our balloons with all their might. And that they did—until Putin invaded Ukraine, and they needed these small Caribbean islands, TT in particular, to provide vital energy products to Western countries.
When TnT, our reserves depleting because of our expansion in LNG and petrochemicals, realised we'll need much more gas, talks with Venezuela on both Dragon and Loran Manatee were expedited. We did not secure any agreement until sometime just before the Covid pandemic struck and that put further strain on moving forward with the operational phase of both projects.
We had no stake in Dragon. But Venezuela stood to gain immensely since Shell, the oil giant that straddled both developments, was ready and raring to go. Billions of dollars were involved here. As if the Covid strictures were not harmful to anything moving forward, Venezuela was now targeted by Washington as its main Latin American adversary. Dr. Rowley and his main aide in these talks, Min. Stuart Young, fine-tuned shuttle diplomacy that Kissinger had used in his day, in efforts to get the Dragon field project underway since it required only thirty kilometers of pipeline from our Deltana platform.
In applying sanctions against Venezuela and viciously policing any breach of the measures, The USA literally halted both projects. I should add at this stage that Dragon is projected to add 150M cubic feet of gas to our grid per day and Loran Manatee a similar quantum. Because of the pipeline infrastructure in place, Dragon could have been on stream shortly after 2020 which was critical to Trinidad and Tobago's flagging petrochemical sector where plants were shutting for lack of gas. And, with the Loran Manatee also on stream, our decline in LNG exports could have been avoided but the USA would allow no such development. In Loran, we were prohibited from monetizing our natural resource and in the case of Dragon both Venezuela and Trinidad lost billions of dollars because of the sanctions Washington imposed on Venezuela.
Sovereign states were bullied into submission by a country that boasts of democracy. A country that fuels war in faraway Ukraine and Russia. Look, I admire Dr. Rowley and Min. Young and others who virtually all but genuflected before these tyrants, pleading for us to pursue legitimate goals to keep our economy afloat. I, citizen Shah, have no such constraints. I will say openly that we have no need to thank The US President and Vice President for their pseudo generosity. Thanks for nothing.